Photo: Alamy
President Donald Trump's historic presidential campaign announcement on Tuesday night inspired countless Americans with the hope of a better and brighter future, launching the 45th president's campaign to become the 47th president.
"Three years ago, when I left office, the United States stood ready for its golden age…towering above all rivals, vanquishing all enemies and striding into the future confident and so strong," Trump told a crowd of supporters and media.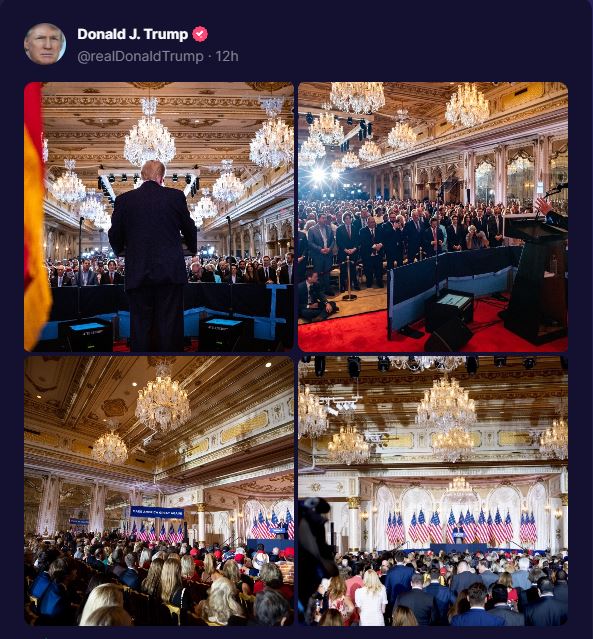 Trump's announcement was delivered at his home, Mar-a-Lago, in Palm Beach, Florida. His wife, First Lady Melania Trump, and their young son, Barron, were also in attendance, showing support for the people's president.
"In order to make America great and glorious again, I am tonight announcing my candidacy for President of the United States," Trump announced to the crowd early in his remarks, drawing cheers from the audience.
He told supporters that this would "not be MY campaign, this will be OUR campaign, all together."
He reiterated that he would be the "voice" of the American people in a return to the White House, fighting against the Washington establishment. "It is not about politics, it's about our love for this great country, and we're not going to let it fail," he assured the nation.
Trump added, "The world has not yet seen the true glory of what this nation can be," and that the America First movement was based upon "freedom, values, individual responsibility and just plain common sense."
"We will again have peace through strength," he continued.
Trump's decision to announce his candidacy for president in 2024 comes right after the midterm elections, heralding a new Republican majority in the House of Representatives.