President Donald Trump will head to Alabama later this month to headline a rally hosted by the Alabama Republican Party (ALGOP).
The "Save America" rally, will take place on Saturday, August 21 at York Family Farms in Cullman, Ala., which is said to be a prime location according to Alabama Republican Party Chairman John Wahl. The city of Cullman is located in Alabama's 4th congressional district which is the most Republican district in the nation.
"Even though this developed rather quickly, we went into 'teamwork' mode in making the City of Cullman the best potential site to host an address by the former President," Mayor Woody Jacobs told The Cullman Times, sharing his enthusiasm about Trump's upcoming visit. "Anytime a former president, or sitting president, regardless of party affiliation, reach out to come to our city and address folks, we want to make sure that we give them the best opportunity for that to happen."
"That takes a lot of people working together," he added. "This is a rare, historical event for Cullman. It goes without saying that the city is very excited for this opportunity and we will be willing to help in anyway that we are able and can. Our primary focus is to make sure this event is safe, family-friendly, and memorable. We look forward to show off our town and our hospitality."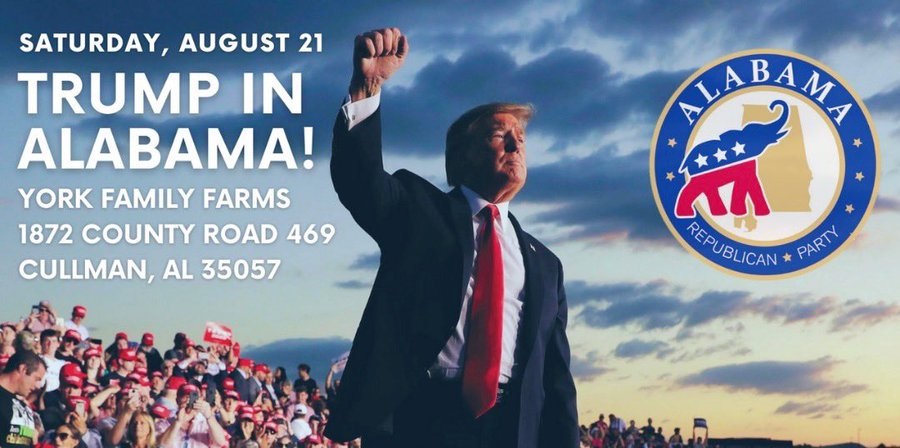 Alabama state Senator Garlan Gudger also voiced his excitement for the "huge" upcoming rally.
"I believe this will be a huge event for Cullman to be able to host President Trump," said Gudger, according to Cullman Daily. "We anticipate having thousands of people traveling in from all over Alabama, as well other states, to see President Trump at this rally."
The "Save America" rally, which will begin at 7 p.m. CST on August 21, is expected to draw thousands of Trump supporters to Cullman County where President Trump received almost 90 percent of the vote in the 2016 and 2020 presidential elections.
The rally will be covered live by Right Side Broadcasting Network on the RSBN mobile app and Rumble. Click here for further information on general admission tickets.