Gov. Ron DeSantis, R-Fla., announced plans to enact legislation that would give unvaccinated, out-of-state police officers that were fired for refusing to follow their state's vaccine mandates $5,000 to move to the Sunshine State.
DeSantis told Fox News's Maria Bartiromo on "Sunday Morning Features" that Florida is going to recruit out-of-work police officers who were fired in other states for not receiving the Covid-19 vaccine.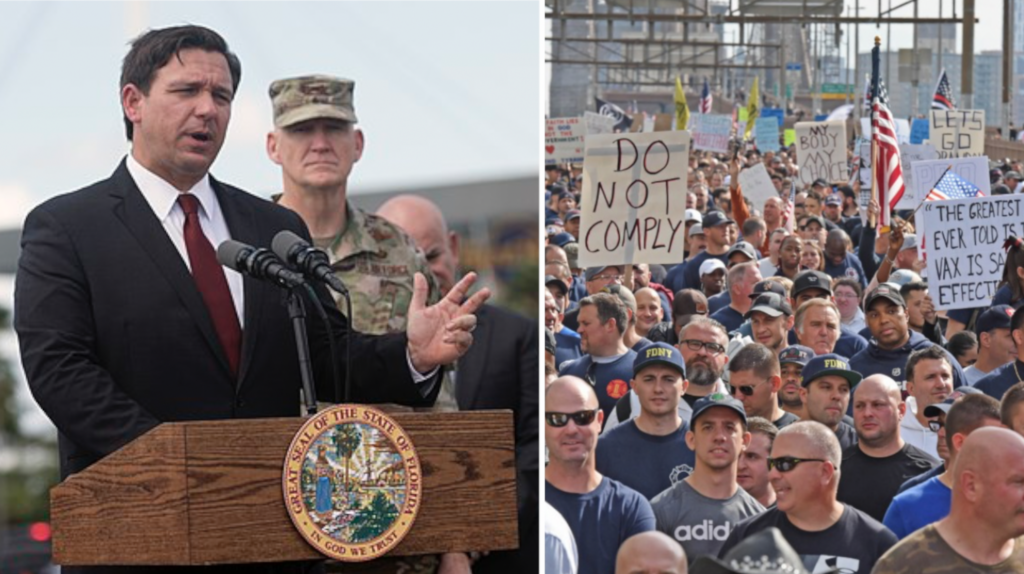 "We're actually actively working to recruit out-of-state law enforcement, because we do have needs in our police and our sheriff's departments," said DeSantis. "So, in the next legislative session, I'm going to hopefully sign legislation that gives a $5,000 bonus to any out-of-state law enforcement that relocates in Florida."
New York City, Minneapolis, Seattle, Los Angeles, and Chicago police departments must be vaccinated, or they will be placed on unpaid leave, according to local mandates.
"NYPD, Minneapolis, Seattle, if you're not being treated well, we will treat you better here. You can fill important needs for us, and we will compensate you as a result," said DeSantis.
DeSantis' office clarified to The Hill that all law enforcement officials who wish to relocate to Florida, regardless of whether they are vaccinated or unvaccinated, would be eligible to receive the proposed $5,000 bonus.
The governor's comments come amid the Biden administration's Covid-19 mandates, which require all federal workers and private businesses with 100 or more workers to get vaccinated or undergo weekly testing, or they will be terminated from their jobs.
The Florida governor threatened to sue the Biden administration earlier this month when telling the press that Florida would contest any mandate from Biden's administration and that lawsuits would be filed in the 11th U.S. Circuit Court of Appeals.
In Washington state, nearly 1,900 state employees have quit or been fired over not complying with Democrat Gov. Jay Inslee's vaccine mandates. In New York City, Democrat Mayor Bill de Blasio ordered the 46,000 unvaccinated city employees to get their first dose of the vaccine by Nov. 1 or they will be put on unpaid leave and fired. In Los Angeles, city workers have until Dec. 18 to get vaccinated or they will lose their jobs.