Photo: Alamy
Former President Donald Trump posted to Truth Social on Tuesday morning asking whether Joe Biden "actually wants to destroy the United States."
The 45th president stated that Biden has put the American people "in an untenable negotiating position" due to disposing of "certain" weapons of mass destruction.
"Biden has just said that he has gotten rid of certain WMD's, but other countries have not done so. This puts us in an untenable negotiating position to get others to do the same, or anything," Trump stated.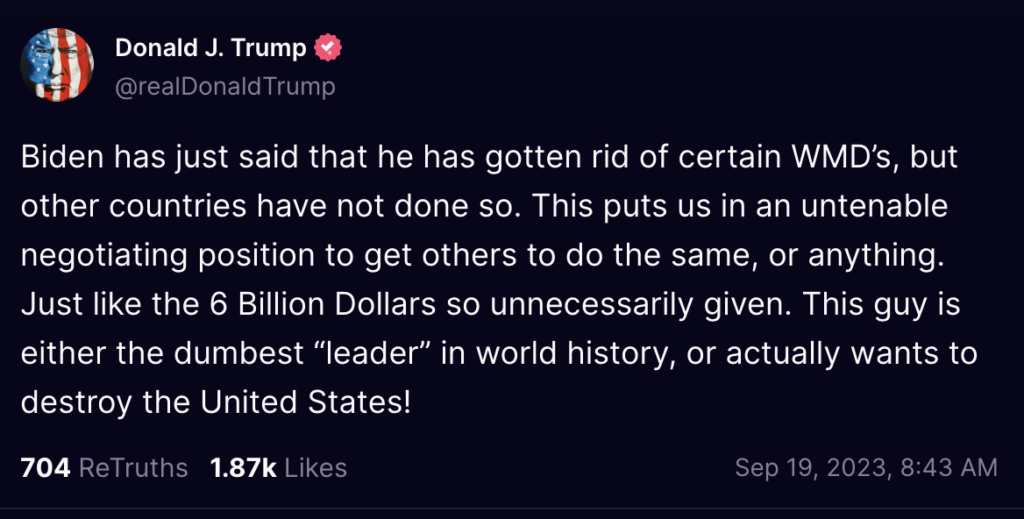 Trump's post comes after Biden spoke at the recent United Nations General Assembly this week where he promised that the U.S. would "lead by example" regarding the war between Russia and Ukraine. 
While the current president blamed "Russia alone" for "standing in the way of peace," he assured leaders that America "is going to continue to pursue good faith efforts to reduce the threat of weapons of mass destruction and lead by example, no matter what else is happening in the world."
Biden also called out Russia for "shredding long-standing arms control agreements," in which Russia backed out of both the New START Nuclear Treaty and the Treaty on Conventional Armed Forces.
This call on reducing weapons of mass destruction comes after Biden's recent prisoner swap deal with Iran was completed last week, giving the Iranian regime five prisoners and unblocking $6 billion in assets in return for five American prisoners.
"Just like the 6 Billion Dollars so unnecessarily given. This guy is either the dumbest "leader" in world history, or actually wants to destroy the United States," Trump concluded in his post.