Photo: Alamy
Joe Biden's popularity with his base is diminishing. Various articles from liberals have called for him not to run in 2024, and now even the Washington Post has published a piece on why Biden should step aside. 
According to writer David Ignatius, Biden's presidency is a successful one. He counts just "winning" in 2020 a success and prosecuting the Jan. 6 protestors. 
However, despite praising Biden's leadership, he wrote, "President Biden should not run again in 2024."
His reasons are based on dropping polling numbers and widespread concerns about Biden's age. Biden's age has been questioned due to his behavior and his habit of continuously making strange statements during speeches.
He recently announced, "I'm going to go to bed," during a press conference, according to the IJR.
This came after he insulted the people of Maui by delaying a visit to the area of Lahaina, which was destroyed by wildfires, per RSBN. Upon his visit, he was criticized for comparing the death and destruction caused by the fires to the time he experienced a kitchen fire, according to the IJR.
According to Fox News, Biden is also the first president since 9/11 to skip the memorial service in New York. Further, he has continually ignored issues like the failing economy, the border crisis, and American needs — like those of the people living in East Palestine who were exposed to toxic chemicals when a train derailed, per RSBN. 
Some liberals are starting to become more realistic about Biden. In June, The Atlantic published a similar piece to the new WaPo op-ed titled "Why Biden Shouldn't Run in 2024."
Author Mark Liebovich noted Biden's "8.6 percent inflation, his depressed approval numbers, his vice president's worse approval numbers, the looming wipeout in the midterms, and all the other delights" but focused on his age as the main issue.
In February, the New York Times ran a similar piece claiming, "Biden's a Great President. He Should Not Run Again."
While these articles claim that it is Biden's age that presents challenges to his leadership, President Trump begs to differ.
On Monday, he posted to Truth Social stating, "CROOKED JOE BIDEN is NOT too OLD, he is too INCOMPETENT!"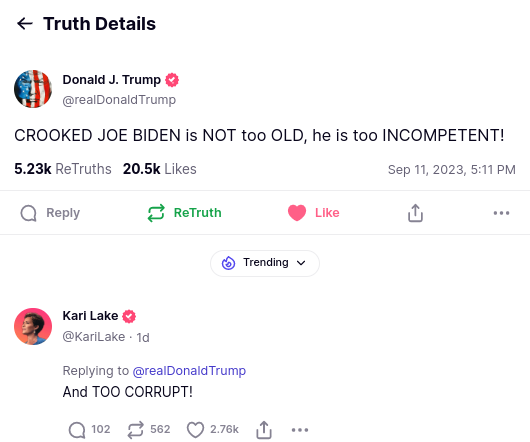 Former Arizona gubernatorial candidate Kari Lake replied, "And TOO CORRUPT!"
This comes just after RSBN reported that House Speaker McCarthy had announced the start of an impeachment inquiry against Biden regarding his involvement in the alleged Biden family crimes.