Photo: Alamy
The Republican Party is staged to make a historic comeback this November, the latest polls and surveys indicate. In fact, the GOP is set to pick up several governorships across the country this midterm season, signaling the potential end of a short-lived Democrat-led era of national politics.  
According to a new poll from Real Clear Politics (RCP), the GOP should pick up at least three more governorships, including Nevada, Wisconsin, and Michigan. RCP also projected that the GOP would pick up Kansas in a face-off between incumbent Democrat Gov. Laura Kelly and GOP Kansas Attorney General Derek Schmidt.
Interactive Polls commented on Twitter, based on the RCP projection, that the GOP would pick up Nevada, Wisconsin, Michigan, Oregon, and Kansas. If accurate, this would bring the total number of Republican governors in the United States to 31 versus 19 Democrat governors.
Per the Daily Wire, Nevada's current Democrat Gov. Steve Sisolak has fallen behind the GOP frontrunner, Trump-endorsed Clark County Sheriff Joe Lombardo, who is leading by almost six points, based on an InsiderAdvantage/American Greatness poll.

According to a report from FiveThirtyEight polling, Republican gubernatorial nominee Christine Drazan, formerly a member of the Oregon House of Representatives, is leading her Democrat opponent in the polls heading into November. The poll projected a victory of 38.7 percent of the vote to 38.2.
However, based on the average spread between different polls like Hoffman Research and Emerson, RCP projected that Drazan would likely claim victory in Oregon by at least two points.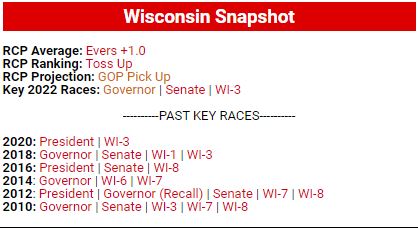 Trump-endorsed gubernatorial nominee Tim Michels is projected to win Wisconsin, although the race has been tight so far. RCP ranks the race as a toss-up, but it seems to be leaning red based on their projection. Michels is running against incumbent Democrat Governor Tony Evers.
RCP projects that the GOP will hold Arizona, Georgia, and Florida. Similarly, a Siena College poll has predicted that Texas Gov. Greg Abbott (R) will also win reelection by at least nine points over his challenger, Democrat Beto O'Rourke.