Photo: Alamy
Hundreds of thousands of Twitter users have expressed their support for President Donald Trump after his arraignment and remarks Tuesday, causing "Mar-a-Lago" to trend.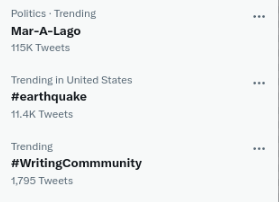 Early Wednesday morning people were still posting about President Trump and offering their encouragement.
Rep. Marjorie Taylor Greene, R-Ga, posted a video displaying a packed house at President Trump's home estate.
Political commentator Gunther Eagleman shared a tweet stating, "The mood in Mar-A-Lago last night was incredible!!"
Kari Lake expressed her reason for attending the Mar-a-Lago event, which was "to make sure that the President understands he's not alone in this fight."
RSBN was there and shared President Trump's remarks about his concerns for the nation.