Photo: Adobe Stock
A new poll from last weekend's CPAC event in Dallas, Texas, revealed that respondents are leaning away from Big Tech censorship and instead jumping onto President Trump's free speech platform, Truth Social.
The survey, conducted through McLaughlin & Associates, polled Truth Social as the second most popular social networking website, coming in a close runner-up to Facebook. The survey found that while 59 percent of people reported using Facebook the most among a list of various social media platforms, a whopping 48 percent said they used Truth Social.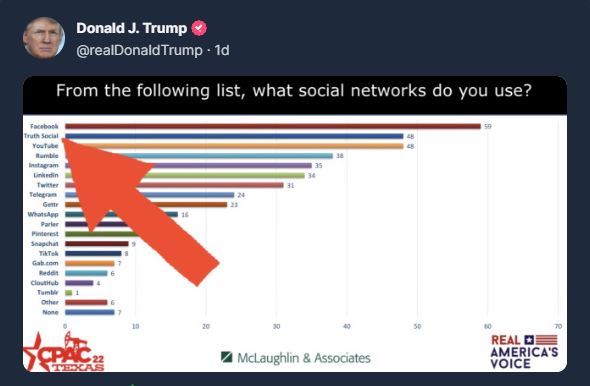 To put this in perspective, Facebook was launched in 2004 by Mark Zuckerberg, while Truth Social was launched only six months ago in February 2022. The rapid gains Truth Social has made in such a short amount of time seem to indicate that the site is poised to continue to expand exponentially.
Interestingly, Truth Social's ascension is contrasted with Facebook's reported decline. In July, Meta, the parent company of Facebook, reported a net income decrease of 36 percent, year-over-year, per RSBN.
The rampant censorship policies of "Big Tech" platforms like Facebook, Twitter, and Instagram have driven many people to look for alternative sites to share news and opinions without fear of being "canceled."
Truth Social recently launched an app for users in the Google Play Store, where it is now available for pre-order for those who own Android devices. The platform has further recently rolled out beta testing on direct messaging, and according to Trump Media & Technology Group (TMTG) CEO Devin Nunes, the company is about "halfway" through the features they are looking to build this year.
Nunes also told RSBN that features would continue to roll out as Truth Social builds its platform.
President Donald Trump triumphantly shared the results of the CPAC social media poll without additional comment.