Photo: Alamy
The Election Integrity Network (EIN) is focusing on implementing election-protecting local infrastructure around the country as Tuesday's midterms approach, with a special emphasis on securing polling places for American voters.
According to a report from Just the News, EIN is active in Pennsylvania, Florida, Georgia, North Carolina, New Mexico, Michigan, Wisconsin, Minnesota, Illinois, Nevada, and Arizona. Further, the outlet revealed that EIN had recruited more than 80,000 poll workers or poll watchers.
Per EIN's "Citizen's Guide to Building an Election Integrity Infrastructure," their network is meant to help engaged citizens "reclaim the election processes and systems in America." They also emphasize the work at the local level.
Their guide also pointed out: "As many have noted: campaign engagement is crucial but if the election system is hijacked by one party or candidate and the outcome is manipulated by partisans, then the campaigns are doomed – regardless of how good the candidate or his/her campaign may be."
Since 2020, maintaining election integrity has been a prominent concern for most voting Americans. Liz Harrington, the official spokeswoman for President Donald Trump, pointed out on Truth Social that "Democrats, Big Tech, and the media work with the regime to try to normalize third world-style elections. It won't work!"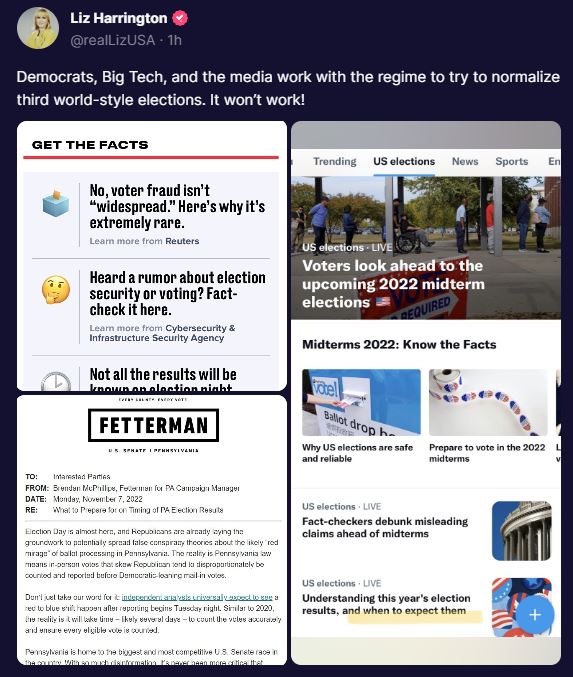 Via Just the News, EIN focuses on training poll workers on the local level and forming coalitions to effect positive change, like understanding voting laws, voter roll list maintenance, and protecting the sanctity of individual votes.
The EIN's citizen's guidebook further expands on their purpose:
"Building a successful election integrity infrastructure in a state requires certain components, working together toward the common goal of ensuring that the laws of the state are designed to protect the integrity of the elections and are then upheld and enforced by election administrators.

1. A state task force, focused on the state election board, the state office and operations.

2. A local task force in each county, or unit, or parish, focused on the local election board office and operations in that county, unit or parish."
The network is also a nonpartisan organization. "The Citizens Guide is for all citizens, regardless of political party affiliation, political persuasion or beliefs," it states.