Photo: Alamy
On Monday morning, shocking reports surfaced that Fox News had parted ways with popular primetime host Tucker Carlson, according to multiple sources.
Sara Fischer, senior media reporter for Axios, revealed on Twitter that Carlson and Fox had "agreed to part ways."
Per a statement attached to Fischer's tweet, it was revealed that Carlson's last program was Friday, April 21.
"Fox News Tonight will air live at 8PM/ET starting this evening as an interim show helmed by rotating FOX News personalities until a new host is named," it continued.
"I am positively shocked regarding Tucker Carlson," Daily Wire host Candace Owens tweeted on Monday. "Greatest talent at Fox News."
According to the Associated Press, Carlson's departure comes less than one week after Fox settled a lawsuit over their 2020 election reporting with Dominion Voting Systems. AP reported that Fox released this statement on Monday: "We thank him for his service to the network as a host and prior to that as a contributor."
Carlson's "Tucker Carlson Tonight" segment on Fox News was wildly popular with conservatives. He recently interviewed President Donald Trump. Carlson also spearheaded a team that sifted through thousands of hours of video surveillance footage from the U.S. Capitol on Jan. 6, revealing some shocking truths behind the media narratives surrounding that day.
Henry Rogers, the Chief National Correspondent for the Daily Caller, shared a screenshot of the market summary for Fox Corp on Monday morning, just minutes after news of Carlson's departure broke. "Appears Fox stock is crashing after announcing Tucker Carlson's show is over[,]" he wrote.
"RIP Fox News" also began trending on Twitter shortly after the departure was announced.
Liz Harrington, the official spokeswoman for President Donald Trump, wrote, "Fox News is controlled opposition[.]"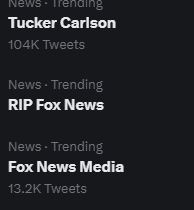 On Friday, Carlson recently delivered a speech at the Heritage Foundation's 50th Anniversary Gala. He gave a keynote address aimed at calling out those who have kowtowed to the radical left agenda in America.
He stated, "You see people going along with this, and you lose respect for them…That's certainly happened to me at scale over the past three years. I'm not mad at people, I'm just sad. I'm disappointed. How could you go along with this?"