Rep. Jim Hagedorn, R-Minn., has died at the age of 59, his wife Jennifer Carnahan announced on Friday.
The Minnesota congressman reportedly passed away after undergoing a three-year battle with kidney cancer.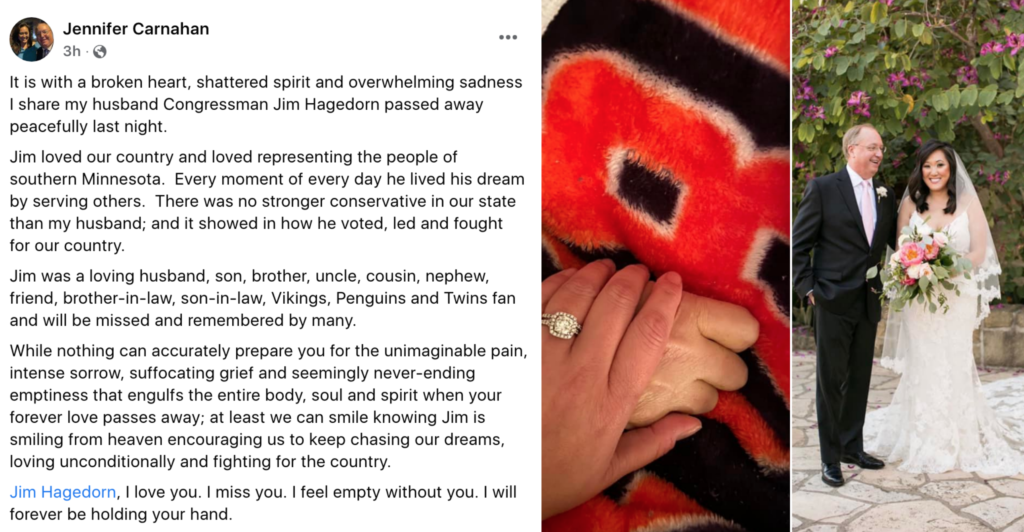 "Jim loved our country and loved representing the people of southern Minnesota," Mrs. Carnahan wrote on Facebook. "Every moment of every day he lived his dream by serving others. There was no stronger conservative in our state than my husband; and it showed in how he voted, led and fought for our country."
Hagedorn was elected to the House in 2018 to represent Minnesota's 1st Congressional District. His father, Tom Hagedorn, represented the same district nearly four decades ago.
Hagedorn, who was endorsed by President Trump in 2020, also objected to the certification of the 2020 election results.
President Trump expressed his condolences to Hagedorn and his family, calling him a "strong and effective legislator" who he "enjoyed working with."
"Congressman Jim Hagedorn was a strong and effective legislator for the great people of Southern Minnesota. I campaigned with Jim in 2018, and enjoyed working with him in Congress," Trump said in a statement Friday. "May he rest in Peace, and his family find comfort during this difficult time. He will be greatly missed!"
Gov. Tim Walz, D-Minn., was also among those who expressed their sympathies to the late congressman's family.
"Gwen and I are thinking of Congressman Jim Hagedorn's family and loved ones today," Walz tweeted. "May they find peace during this difficult time."
Former Rep. Betty McCollum, D-Minn., also paid tribute to Hagedorn and his family, praising him for his public service.
"Jim and I served in the U.S. House during a time of many great challenges for our nation and for our state — and all the while, he bravely endured the personal challenge of cancer treatment with dignity and grace while serving our country and his constituents," McCollum said in a statement.
"Despite our policy differences on many issues, Jim and I were united in the common goal of achieving greater opportunities for future generations of Minnesotans," she added.
According to Minnesota Law, a special election to fill Hagedorn's seat will occur on Aug. 9, the date of the statewide primary. A special primary election will also be held 11 weeks before that.