Photo: Alamy
With Florida Gov. Ron DeSantis at the helm (R), it may come as no surprise that Republican voters in the Sunshine State are leading the pack in terms of voting turnout ahead of next week's election.
According to a tweet from election activist Scott Presler, Republicans hold a 260,777 lead over the Democrats so far, dominating turnout in mail-in voting and in-person early voting.
Further, a recent report from The Sun Sentinel revealed that there were 5.28 million Republicans registered to vote in Florida for the 2022 midterms compared to Democrats' 4.97 million. Per the outlet, Republican registration surged by 86,376 between August to November, while Democrat registration stalled at 9,380.
Long considered a swing state, Florida has seemingly cemented itself as a conservative stronghold under the leadership of Gov. DeSantis.
DeSantis has been praised by constituents and supporters alike for his common-sense leadership throughout the Covid pandemic and his response to the devastation of this year's Hurricane Ian, per RSBN.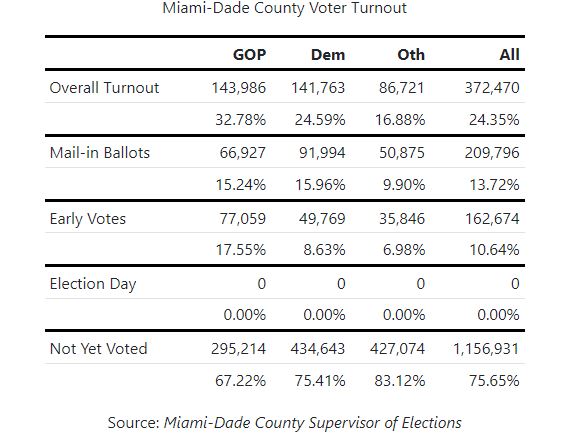 A new poll from Siena College found this week that DeSantis holds a crushing 12-point lead over his Democrat opponent, former Republican and Florida governor, Charlie Crist. Among independents, DeSantis is up by a whopping 20 points, and he holds a staggering 25-point lead with Hispanic American voters.
Based on a survey from Fresh Take Florida, even reliably-blue Miami-Dade County is experiencing high GOP voter turnout that is eclipsing Democrats', particularly with in-person early voting. Based on Siena College's poll, DeSantis is up 11 points in Miami-Dade.
Sen. Marco Rubio, R-Fla., is also up by eight points, per Siena, and Florida Attorney General Ashley Moody (R) is dominating her race for reelection with an impressive 14 points.
President Donald Trump will hold a Save America rally in Miami, Florida, on Sunday, Nov. 6, to rally more support for Sen. Rubio and the entire Floridian Trump Ticket.