Photo: Alamy
Republicans agreed to nominate Rep. Mike Johson, R-La., for Speaker of the House on Tuesday night after multiple contenders vied for the position in this latest round.
According to The Hill, Rep. Scott Perry, R-Pa., chairman of the conservative House Freedom Caucus, stated, "I think we're gonna have a Speaker."
"If you're going to change the status quote here, you're gonna have to shatter the current power establishment, which is what you're seeing right now," he added.
"This town doesn't work for the American people and hasn't for a long time. We're on this journey right now to change that, and this is the next step in that journey," he concluded.
The Washington Examiner reported that Rep. Jim Banks, R-Ind., praised Johnson, noting, "He's done what no one has been able to do before, and that's unify and consolidate the conference, and that's why he's going to be the speaker of the House tomorrow."
This comes three weeks after former Speaker Kevin McCarthy, R-Calif., was ousted, per RSBN.
On Oct. 11, Republicans nominated Rep. Steve Scalise, R-La., for the speakership, via AP News. However, he was unable to gain enough votes, according to Reuters.
Fox News reported that Rep. Jim Jordan, R-Ohio, then received the nomination but lost after failing to secure enough support from House Representatives after three rounds of votes. 
Rep. Tom Emmer, R-Minn., was the latest nominated Tuesday, according to The Hill, but dropped out after facing a backlash from Republicans and even President Donald Trump, per The Hill.
Rep. Byron Donalds, R-Fla., received massive support from America First supporters, and his name is still trending on X, along with Johnson.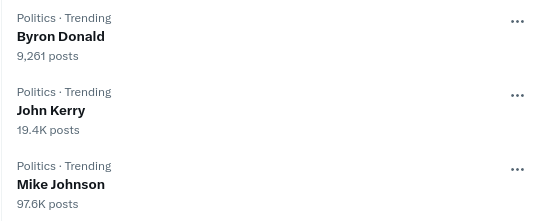 Johnson currently holds a 74 percent C rating on the Conservative Review's Liberty Score. This means he has voted in favor of conservative issues for the majority of his time in office.