Photo: Adobe Stock
The U.S. Supreme Court's (SCOTUS) landmark decision in Dobbs v. Jackson Women's Health Organization this week sent shockwaves through both pro-life and pro-choice advocates. The ruling overturned Roe v. Wade and its reaffirmation in Planned Parenthood v. Casey, tossing the issue of abortion back to the states.
In response, many left-leaning corporate giants across the country have vowed to provide their female employees with financial support to allow them to travel from red states, where the procedure is now restricted, to abortion-friendly states and obtain the procedure there if they so desire.
However, one small insurance company is standing strong against the current progressive political tide and offering financial support for women who choose life for their unborn children rather than an abortion procedure.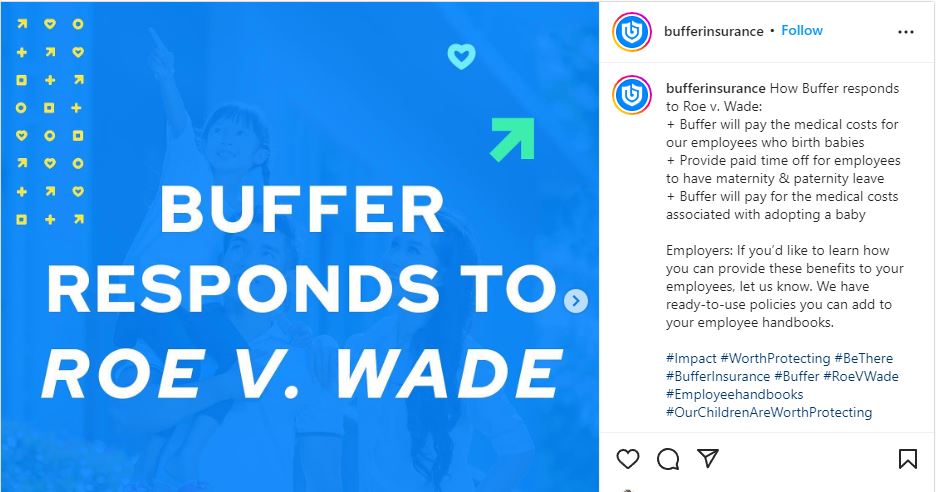 According to a statement released on Instagram, Buffer Insurance will pay for the medical costs of their employees who birth babies rather than abort them. They also stated that they would "provide paid time off for employees to have maternity & paternity leave + Buffer will pay for the medical costs associated with adopting a baby[.]"
According to its official website, Sean Turner founded Buffer Insurance "with the vision that the most meaningful impact we make is in the lives of others." The company is "veteran-led and veteran-owned."
Buffer's stance on providing financial support for mothers and fathers starkly contrasts with companies like Amazon, Apple, Microsoft, Target, Starbucks, and countless others. "Secular companies are paying the travel costs for employees to abort babies out-of-state," Buffer's Instagram graphic read. "Today we are announcing that Buffer will pay the costs for our employees who birth babies."
Their Instagram statement additionally noted:
"Employers: if you'd like to learn how you can provide these benefits to your employees, let us know. We have ready-to-use policies you can add to your employee handbooks."