The anti-child sex trafficking film Sound of Freedom hit $10 million in pre-sales on Monday. 
According to the Washington Examiner, the Angel Studio's film has surpassed expectations and received praise from critics.
The Washington Examiner also noted that the man the movie's main character is based on, former CIA and DHS special agent Tim Ballard, stated, "People get to see what I saw and I experienced, and I hope that turns into a great light that can be the great disinfectant to this dark, dark plague of child sex slavery."
The film had set a goal to sell two million tickets to represent the estimated two million children who fall prey to trafficking each year, per RSBN.
Lead actor, Jim Caviezel recently joined Truth Social and posted about the film's release stating, "We're bringing freedom back."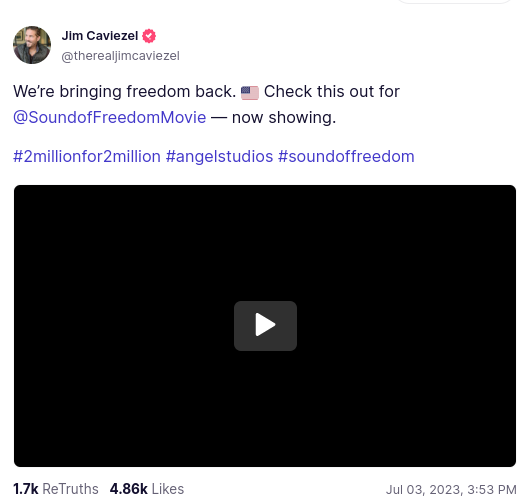 Oscar-winning actress Mira Sorvino is also featured in the film and tweeted, "Sound of Freedom is NOT a political movie. It's a beautiful, inspiring film w/an uplifting ending that should ignite a fire in every viewer's heart to get involved to end #childsextrafficking of 2 million+ kids in our day."
Sound of Freedom currently has an 85 percent score from critics on the Rotten Tomatoes movie scoring site, but is holding a 99 percent audience score, displaying popularity among Americans already. 
The film released on the 4th of July and is currently playing in theaters across the nation. The co-founder of Angel Studios, Neal Harmon, posted Tuesday urging moviegoers to ask theaters to add showtimes due to demand.