Thousands of Los Angeles residents gathered in front of City Hall this week to protest the city's strict vaccine mandates that went into effect on Monday.
Protestors rallied in front of the city hall in Los Angeles in response to the city's strict Covid-19 vaccine mandates. The protestors raised their voices together to take a stand for personal freedom.
The protest was officially organized as a "March for Freedom" located at Grand Park in Los Angeles. According to Fox News, the event was planned and coordinated by Firefighters4Freedom.
Monday's protest was in response to a new vaccine requirement in Los Angeles, requiring proof of Covid-19 vaccination to enter a wide range of businesses. Under the new mandates, businesses such as restaurants, hair salons, gyms, shopping malls, and movie theaters must require proof of vaccination for patrons to enter indoors. Although the mandate went into effect on Monday, however, full enforcement of the law will not begin until Nov. 29. Surprisingly, the city's sheriff has vowed not to enforce it.
Los Angeles business owners will now be required to post notices such as the following: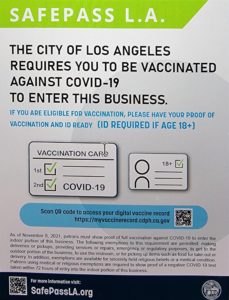 In response to the latest mandates by the city of Los Angeles, residents rallied in a protest that attracted thousands of business owners, police officers, fire fighters, and city workers. Many of the protestors were raising their voice in opposition to the previous mandate that all city workers, fire fighters, and police officers must show proof of vaccination by Dec. 19 or else they will lose their jobs.
Los Angeles' newest vaccine mandate is one of the strictest in the nation, making it the battleground for personal freedom as numerous states and cities nationwide battle Biden's mandates.
While a large portion of American citizens have received the Covid-19 vaccine, many remain hesitant to get it for a variety of personal, religious and medical reasons. Republican states such as Texas have already launched massive lawsuits against the Biden administration's Covid-19 vaccine requirements for businesses with over 100 employees. With lawsuits plaguing the federal mandates, the question now is how individual states and cities will respond to local mandates.