President Donald Trump's MAGA policies continue to prove necessary as the Biden administration desperately fails to handle the crisis at the southern border. As a result, Trump this week slammed Biden for the humanitarian crisis unfolding at the southern border.
Trump said in a statement on Tuesday the U.S.-Mexico border had gone from being the "safest and most secure in history, by far," to "a broken, dirty, and disgusting wreck with thousands of unknown people from unknown countries…unsustainably pouring in."
"Crime will go up at levels that the U.S. has never seen before (it is actually already there), and terrorism will be the next big wave to lead the way," he stated.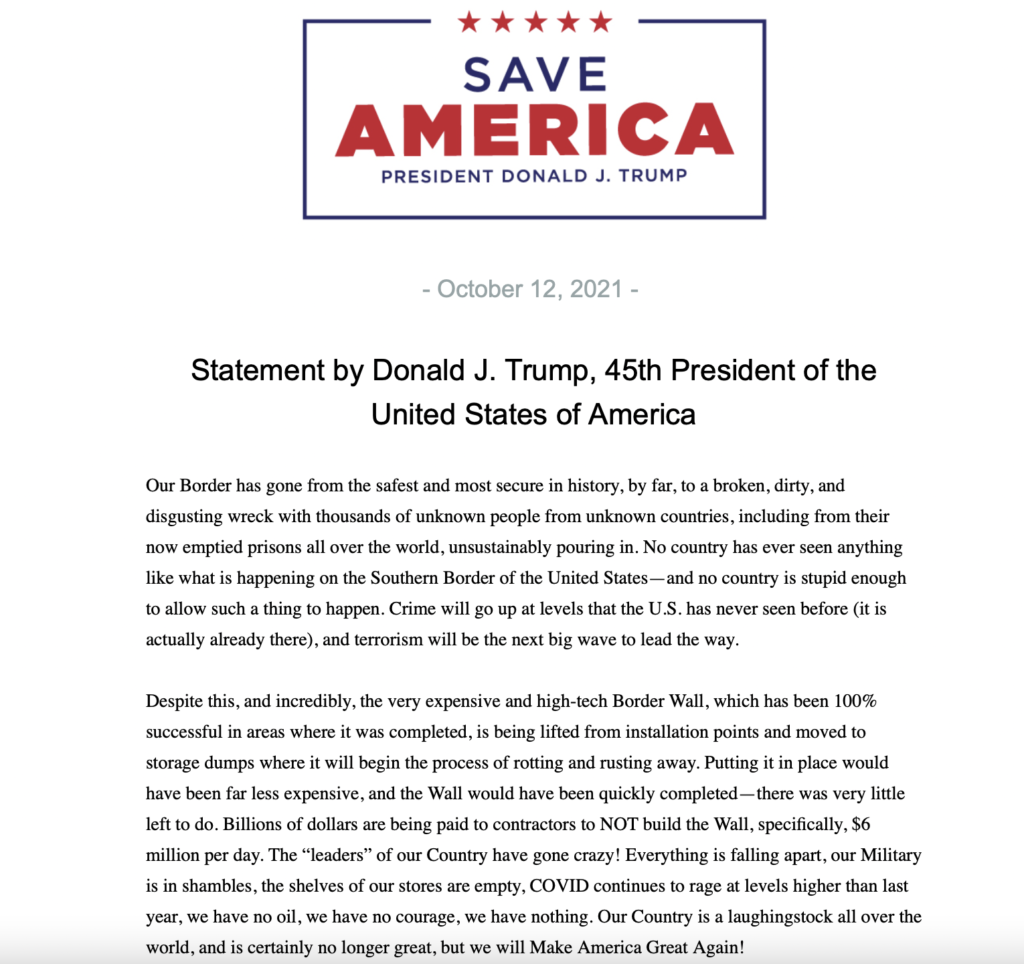 Trump criticized the fact that the Biden administration is wasting away billions of tax dollars to prevent contractors from actually building the southern border wall, citing a Center for Immigration Studies number that equals $6 million spent on these efforts per day.
In addition, the 45th president argued the "very expensive and high-tech Border Wall" has been 100 percent successful in completed areas, versus areas that lacked border wall construction.
President Trump also mentioned how the country is "falling" apart due to a disrupted military, economy, supply chain, and handling of the COVID-19 pandemic. "We have no courage, we have nothing," Trump noted.
However, he holds hope that the U.S. will regain its fortitude once the Biden administration leaves office. "Our Country is a laughingstock all over the world, and is certainly no longer great, but we will Make America Great Again!"
Recently, Gov. Greg Abbott announced reconstruction of the border wall along the Texas border with Mexico are underway. State funds have helped the Lone Star state achieve these efforts.
The southern border continues to see illegal immigrants pour through, while U.S. Customs & Border Protection, Immigrations & Customs Enforcement, and the Dept. of Homeland Security decry overflowing facilities and an unhelpful federal government.
The Biden White House refuses to deport most of the migrants that are pouring in illegally due to a recently implemented policy that would not arrest or deport all migrants that cross illegally, only those that "crossed recently" or "determined to be a threat to national security," according to AP News.
But the administration's inconsistent treatment of legal travelers to the U.S. and illegal immigrants on the matter of Covid remain as the federal government does not require illegal immigrants flooding the border to be tested for COVID. However, incoming travelers are required to be vaccinated.