Photo: Alamy
President Donald Trump's campaign officially reacted to the new trial date that Judge Aileen Cannon set for the ongoing classified documents case this week, celebrating the decision as "a major setback to the DOJ's crusade to deny President Trump a fair legal process."
As previously reported by RSBN, Cannon set the new trial date for May 20, 2024, in a move that brokered a compromise between requests from both the Trump team and the DOJ.
The Trump campaign released the following statement:
"Today's order by Judge Cannon is a major setback to the DOJ's crusade to deny President Trump a fair legal process. The extensive schedule allows President Trump and his legal team to continue fighting this empty hoax. Crooked Joe Biden is losing and attempting to use his weaponized DOJ against his top political rival–a disgraceful and un-American abuse of power. Crooked Joe will fail and President Trump will win back the White House for the American people."
The preliminary hearing was originally scheduled for August 14.
However, the impending 2024 presidential election year has proven to be a problem for the timetable of this trial.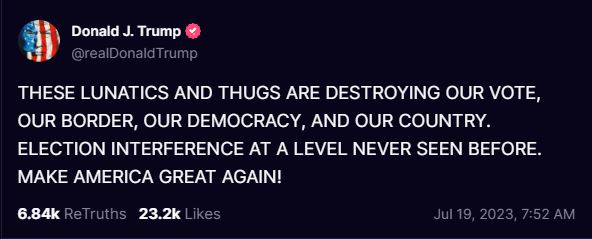 Trump has strongly railed against the "weaponized" justice system in the United States today.
He wrote this week on Truth Social, "FOR THE FIRST TIME IN THE HISTORY OF THE USA, LAWYERS, AND THE LEGAL SYSTEM ITSELF, ARE UNDER SIEGE…ALL A GIFT FROM CROOKED JOE BIDEN, MERRICK GARLAND, AND DERANGED PROSECUTOR, JACK SMITH!!!"
He added, "THE DEMOCRAT PROSECUTORS WAITED YEARS TO BRING CHARGES SO THAT THEY COULD INTERFERE WITH THE 2024 PRESIDENTIAL ELECTION. THEY ARE GETTING, HOWEVER, BIG BLOWBACK!!!"
His comments also came after news broke that Trump would potentially face another indictment in Washington, D.C., regarding the Jan. 6.
He additionally called the ongoing legal attacks "ELECTION INTERFERENCE AT A LEVEL NEVER SEEN BEFORE."