Photo: Alamy
President Donald Trump has confirmed that he will be traveling to Atlanta on Thursday to be arraigned for a fourth time this year following an indictment from Fulton County District Attorney Fani Willis last week.
He wrote on Truth Social, "Can you believe it? I'll be going to Atlanta, Georgia, on Thursday to be ARRESTED by a Radical Left District Attorney, Fani Willis, who is overseeing one of the greatest Murder and Violent Crime DISASTERS in American History. In my case, the trip to Atlanta is not for 'Murder,' but for making a PERFECT PHONE CALL!"
Last week, Trump was charged with 41 counts related to a grand jury's investigation centered on phone calls that the president made to Georgia Secretary of State Brad Raffensperger in 2020. 18 Trump associates, including lawyers Rudy Giuliani, Jenna Ellis, and John Eastman, were also charged.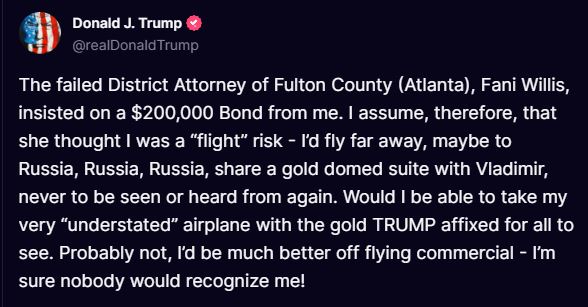 Trump remarked of Willis, "She campaigned, and is continuing to campaign, and raise money on, this WITCH HUNT. This is in strict coordination with Crooked Joe Biden's DOJ. It is all about ELECTION INTERFERENCE!"
As reported by RSBN, Willis has accused Trump, along with his former officials, of utilizing a "criminal enterprise" to attempt to win the 2020 presidential election. Notably, she has additionally charged them with violating the state's Racketeer Influenced and Corruption Act (RICO).
On Monday evening, Trump revealed that Willis had "insisted on a $200,000 Bond from me," joking that she considered him a flight risk.
He flashed his sense of humor, commenting on Truth Social, "I'd fly far away, maybe to Russia, Russia, Russia, share a gold domed suite with Vladimir, never to be seen or heard from again. Would I be able to take my very 'understated' airplane with the gold TRUMP affixed for all to see. Probably not, I'd be much better off flying commercial – I'm sure nobody would recognize me!"