Photo: Alamy
President Trump let his patriotism shine through in a new profile picture switch on his Truth Social account, reportedly marking the first time in years that he has changed his photo on any of his social media platforms. The new photo features a painting of the president's face overlaid with the red, white, and blue colors of the American flag.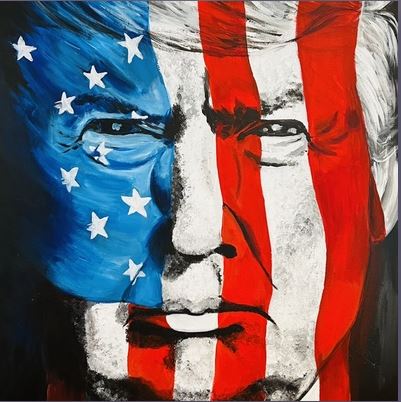 Close followers and supporters of President Trump's social media accounts likely noted the change on the president's Truth Social profile right away. Since launching Truth Social in February 2022, the site has become a direct pathway of communication between Trump and the American people.
President Trump was de-platformed from Big Tech giants like Twitter, Facebook, and Instagram in January 2021. As reported by RSBN, the president was reinstated on Twitter in November 2022 by Elon Musk, and he is also set to be reinstated in the coming weeks on Facebook and Instagram, according to Meta president Nick Clegg.
Trump wrote of the reinstatements, "FACEBOOK, which has lost Billions of Dollars in value since 'deplatforming' your favorite President, me, has just announced that they are reinstating my account," he wrote. "Such a thing should never again happen to a sitting President, or anybody else who is not deserving of retribution! THANK YOU TO TRUTH SOCIAL FOR DOING SUCH AN INCREDIBLE JOB. YOUR GROWTH IS OUTSTANDING, AND FUTURE UNLIMITED!!!"
However, Trump has made it clear that he plans to remain on Truth Social. His platform will be an especially important part of his 2024 presidential campaign, providing a way for Americans and MAGA voters to get in touch with the president directly.
Although the president has a long road of campaigning ahead, he is already dominating in the polls. A new Morning Consult 2024 GOP primary poll conducted between Jan. 27 and Jan. 29 found that Trump had netted a whopping 48 percent of support among Republican voters, while his potential rival, Gov. Ron DeSantis, R-Fla., came in second with only 31 percent.