Photo: Alamy
President Trump targeted the FBI in recent comments made to Truth Social, eviscerating the bureau in the wake of last week's bombshell testimony from FBI whistleblowers and the recent release of the final Durham Report.
"The FBI offered Christopher Steele One Million Dollars in order to FRAME me," Trump wrote on Truth Social. "Why aren't all of the so called Special 'Prosecutors,' together with their bosses at the DOJ, doing something about this. Why aren't people under arrest."
As previously reported by RSBN, Special Counsel John Durham questioned FBI officials about the infamous Steele dossier, where Christopher Steele was allegedly offered $1 million to make false accusations against President Trump.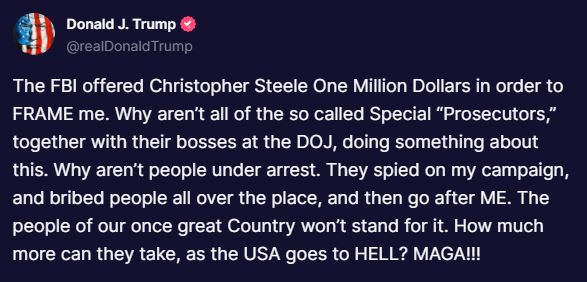 Trump continued, "They spied on my campaign, and bribed people all over the place, and then go after ME. The people of our once great Country won't stand for it. How much more can they take, as the USA goes to HELL? MAGA!!!"
FBI supervisory counterintelligence analyst Brian Auten initially gave the testimony to Durham that Steele had been offered money, which meant that he could not corroborate allegations in the dossier.
From RSBN:
"According to Fox News, an FBI official testified that the bureau offered Christopher Steele, a former British intelligence agent, $1 million to 'corroborate salacious allegations' used in the infamous dossier, which enabled the FBI to 'spy' on Trump during his 2016 presidential campaign."
Trump's comments also come after the final Durham report dropped several bombshells about the weaponization of the U.S. government's federal agencies, especially the FBI's Crossfire Hurricane investigation, which looked into allegations of Trump's wholly-debunked collusion with Russian entities in 2016.
Ret. Lt. Gen. Michael Flynn wrote on Twitter recently, "The FBI needs to be completely shut down and it must happen in any new administration that enters the WH. Ideas about reform are fine but not until a complete shut down occurs."