Op-ed by Summer Lane | Photo: Alamy
This week, President Trump addressed swirling narratives amid conservative and liberal critics of Joe Biden, arguing that Biden was not too old but rather "too incompetent" to lead the country.

On Thursday, Trump wrote on Truth Social, "A poll just came out showing that almost everyone thinks Crooked Joe Biden is too old, but they don't think I'm too old (and I'm not!). Actually, Crooked Joe is not too old, he's too incompetent, and the WORST PRESIDENT IN THE HISTORY OF THE UNITED STATES. MAKE AMERICA GREAT AGAIN!"
A late August poll from AP-NORC found that 77 percent of Americans see Joe Biden as too old to lead the country. Along party lines, 89 percent of Republicans agreed with this sentiment, while 69 percent of Democrats additionally agreed.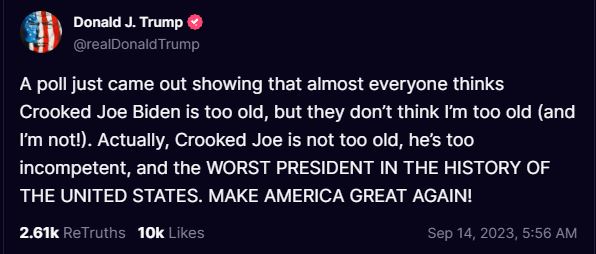 While Biden's age may be a factor for some, it is his often-observable confusion and speculated cognitive decline that concerns many Americans. For example, on Monday, Biden made some eyebrow-raising comments when he commemorated the 22nd anniversary of the Sept. 11, 2001, terrorist attacks that took place in New York.
He claimed during his speech, delivered in Alaska, that he had been at Ground Zero on Sept. 12, 2001, despite no evidence to back up this claim. In fact, Biden gave a speech in the U.S. Senate on Sept. 12, as previously reported by RSBN.
Comments like this have led many to wonder about Biden's cognitive agency. Even Forbes has pointed out Biden's increasing number of gaffes and verbal missteps over the past year, ranging from being abruptly escorted from a Sept. 5 Medal of Honor ceremony to tripping up the steps of Air Force One.
While speaking to Megyn Kelly in a new interview, President Trump explained that Biden's apparent problems had nothing to do with age, but rather, competency, as he pointed out in his Truth Social comments.
Per The Hill, he remarked, "I have friends, Bernie Marcus, that are in their 90s and they're sharp as a tack. They're just, I mean, I would say just about what they used to be. No, not old. He's incompetent."
Indeed, while Biden appears to have difficulty performing the tasks associated with the office of the presidency, President Trump is energetically running a vigorous 2024 reelection campaign at the age of 77. The 45th president regularly gives one to two-hour speeches, meets with supporters on the campaign trail, and conducts regular interviews with the press and media outlets.
Nationwide, Trump has dominated Republican presidential primary polling, and he has begun to eclipse Biden in nationwide general election polling. According to RealClear Politics, in a nationwide general election, the president is now averaging nationwide just above Biden (+0.4 points), which will likely increase as November 2024 approaches.
President Trump also makes a valid argument regarding the office of the presidency: it's not about age; it's about competency.