Photo: Alamy
President Trump's endorsee for Illinois governor, Darren Bailey, is closing the gap in the polls heading into November, posing a serious threat to incumbent Gov. JB Pritzker, D-Ill.
According to a press release from Bailey's campaign team, "Recent public polling shows the race for Governor is single-digits, with billionaire J.B. Pritzker floundering and Senator and Darren Bailey closing strong despite being outspent by over $2 million in Pritzker spending this week alone. "
Per the statement, internal polling from Osage Research found in a survey among 600 likely general election voters that if the election were held today, a total of 42 percent would cast their ballots for Bailey, while 44 percent would cast their ballots for Pritzker. That two-point gap places Bailey within easy striking distance of his Democrat opponent.
Bailey's campaign manager, Joe Durbin, stated via the release:
"Darren Bailey meets with thousands of people weekly to earn their trust and vote. We've been on the ground and know our grassroots movement will outperform poll numbers. J.B. Pritzker has governed like a tyrant pushing extreme policies that have made our streets unsafe while decimating our schools and economy. Working people, parents, students, and everyone who has been ignored the last four years are ready for a Governor who will fight for them."
Bailey is a former Illinois state representative and currently represents the 55th district in the Illinois State Senate, per his campaign website.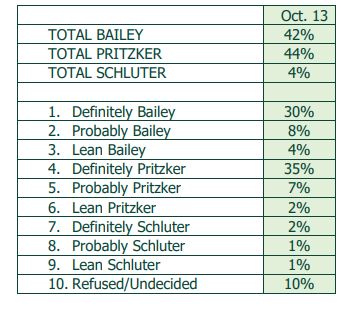 President Trump endorsed Bailey for governor in June ahead of a hotly anticipated Save America rally in Mendon, Illinois. "Darren is just the man to take on and defeat one of the worst governors in America, JB Pritzker. He's one of the worst," Trump told the crowd during the rally, via the Illinois Newsroom.
He continued, "I had to deal with this guy [Pritzker] for a long time on COVID…. He was a disaster. His numbers are terrible. Everybody's fleeing your state, okay? This is a disaster, and Darren is the opposite."