Photo: Alamy
President Trump announced plans to win the Florida primary and address the state's issues.
In a video posted to Truth Social on Thursday, he declared, "Next March, we are going to win the Florida primary, and in November 2024, we are going to win the state of Florida for the third straight time, and we are going to take back the White House."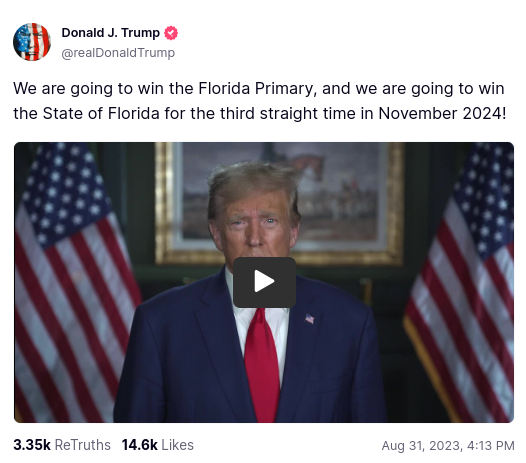 He criticized Joe Biden's handling of the presidency and pledged to reverse "every single Biden disaster" as soon as he returns to office.
Trump stated, "We will no longer neglect the growing problems the people of Florida are facing."
He specifically addressed issues with insurance markets, electricity rates, and crime sprees in Democrat-run cities.
NBC Miami reported that Florida residents are paying 42 percent more for homeowners insurance than last year. Lawmakers are attempting to regulate rate hikes, but over a dozen insurance companies have pulled out of the state.
Florida's energy issues are also a major concern being that residents are paying 33 percent more than the national average for electric costs, per Energy Sage.
President Trump reminded voters that under his leadership, "We had an economy like nobody had ever seen before."
This statement was reinforced in his recent op-ed for the Wall Street Journal, where he defended his tariff policies and explained how they helped to enrich Americans. He wrote, "Price increases for consumers were virtually nonexistent and there was effectively no inflation." 
President Trump's promise to reinstate this form of prosperity was reiterated in his video as he declared, "We will put America first, and as one united team, we will Make America Great Again.