Photo: Alamy
The E. Jean Carroll verdict is still making headlines, but President Trump has maintained his innocence against her questionable claims. Now, he is appealing the court's decision to award Carroll $5 million in damages for defamation and sexual abuse, per The Hill.
He is well within legal grounds being that there is no clear evidence of sexual abuse. The incident in question supposedly took place in a public store's dressing room but no shoppers, dressing room attendants, or other employees witnessed it, according to The Federalist.
Breitbart reported that E. Jean Carroll made the allegations to promote her book in 2019 and hired a Democrat activist to represent her in court. That same report also revealed that the judge overseeing the case, Lewis Kaplan, has connections with another of Carroll's attorneys.
Furthermore, the jury itself was anonymous, so determining whether or not any of the jurors held a bias against President Trump was impossible for his legal team to decipher, via RSBN.
The case was brought up during President Trump's recent town hall appearance on CNN and the audience supported him despite the network's obvious bias. In fact, they considered Carroll's claims to be laughable, according to Business Insider.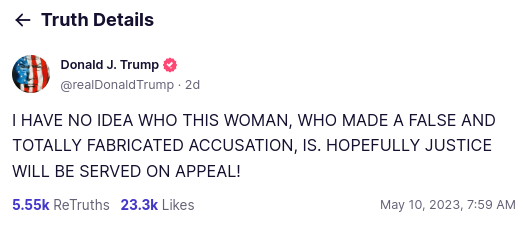 President Trump continues to receive support and is not backing down. He mentioned his appeal in a Truth Social post on Wednesday, stating, "HOPEFULLY JUSTICE WILL BE SERVED ON APPEAL!"