Photo: Alamy
President Trump took a swipe at rising crime in New York on Thursday, highlighting the political persecution he has been forced to endure within a weaponized court system. "Despite producing tens of thousands of JOBS and such important and lasting structures in New York City, it is said that I will never be able to get a fair trial there," he wrote on Truth Social.
"Well, we will soon see, because this case against two companies is a disgrace that should never have been brought, and has been totally DISPROVEN," he continued. "Justice in America!"
President Trump has been entangled in several investigations and lawsuits over the years since formally announcing his candidacy for the White House in 2015.
For example, a recent civil fraud case brought against him by New York Attorney General Letitia James in September has wreaked of political motivation. Trump filed a lawsuit in early November to stop James from continuing what he called a "war of intimidation and harassment on President Trump, his family, his business interests, and his associates," per RSBN.
On Thursday, the Washington Post reported that ten days of witness testimony in the highly publicized alleged tax scheme from former Trump Organization CFO Allen Weisselberg would be ending, as prosecutors and defense lawyers reportedly claimed it would take several hours to make closing arguments.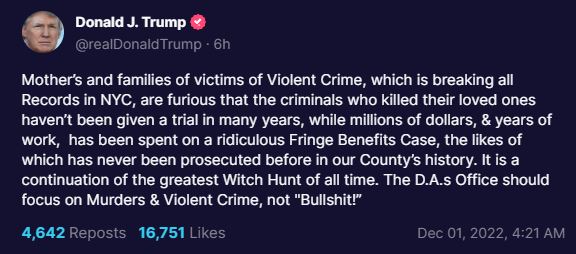 Preceding the closing arguments on Thursday, Trump took to Truth Social earlier this week to slam what he called the "Manhattan D.A. Fringe Benefits Case."
He wrote, "Even the media is saying that if we are treated fairly, always a big question with me, we win. This Witch Hunt has cost NYC $millions & $millions at a time when violent crime in New York has reached an all time high. Went through 8 million pages of Documents and found NOTHING. Focus on MURDER!!!"
Trump's Thursday statements echoed the same sentiment, ripping the New York district attorney's office for turning a blind eye to rising crime and instead spending millions of dollars investigating Trump and his businesses.
"The Manhattan D.A.'s Office has not tried a Murder Case since 2015, despite the fact that Violent Crime in NYC is at an all time high," he continued. "That's 6 years ago and yet, after years of investigation, millions of dollars spent, and the costly and laborious inspection of almost 10,000,000 pages of documents…No such case has ever been tried before. Sad!"
Trump has staunchly defended the integrity of his business dealings, and after years of investigation, no charges have been brought against the 45th president.
"The D.A.'s Office should focus on Murders & Violent Crime, not 'Bulls**t!" he also remarked.