Photo: Adobe Stock
True the Vote investigator Gregg Phillips chimed in on the ongoing Pinal County ballot scandal in Arizona, urging Americans to "watch closely."
"AZ has a mess on their hands," Phillips posted on Truth Social, referring to the massive ballot scandal where Pinal County mailed out 63,000 incorrect ballots that were missing the local municipal races. "Pinal County (reg voters: 275,000) injecting 63,000 new ballots into the system guarantees losing candidates have a cause of action."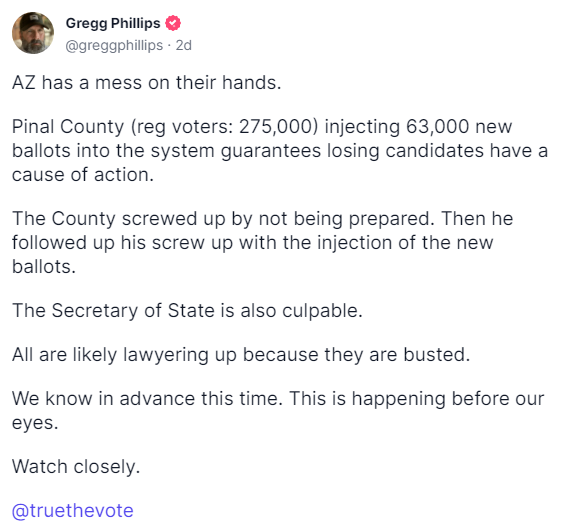 RSBN reported last week that a Republican candidate for Arizona's 6th Congressional District, Kathleen Winn, filed a lawsuit against Pinal County.
Winn told RSBN's Liz Willis that Arizona's Secretary of State Katie Hobbs wanted to fix the issue by sending out supplemental ballots. However, Winn insisted that Hobbs' solution would create "confusion" for voters, which led her to file a lawsuit against the county.
A day after the lawsuit, the Pinal County Board of Supervisors unanimously approved a plan allowing voters who received a flawed ballot to fill out a second ballot containing the municipal races, as reported by AZ Family.
"At this point, while it is not a perfect solution, we believe this to be the best solution," Pinal County Attorney Kent Volkmer said. "That solution is to send out to all permanent early voters who requested an early ballot to be mailed a new ballot exclusively containing municipal races in the seven affected jurisdictions."
In his post, Phillips maintained that Pinal County "screwed up by not being prepared." Then they "followed up" the "screw up with the injection of the new ballots."
"The Secretary of State is also Culpable," he continued. "All are likely lawyering up because they are busted. We know in advance this time. This is happening before our eyes. Watch closely."