FOR IMMEDIATE RELEASE:

March 28, 2022
AUBURN, Ala. — RSBN's livestream of President Donald Trump's rally in Commerce, Georgia, on March 26 reached millions of Americans despite Big Tech censorship.

Excluding YouTube, our biggest platform, RSBN's Trump rally coverage received 2,098,747 viewers between Rumble, the RSBN mobile app, GETTR, Twitter, and Facebook. It's worth noting that Rumble alone saw well over one million viewers.
Viewership may have reached three million had YouTube not struck RSBN with a temporary ban on livestreaming days before Trump's rally in Georgia.
Although we had about 400,000 fewer viewers than our previous rally, Saturday's numbers show that Americans will use alternative platforms to watch President Trump's remarks rather than YouTube which clearly seeks to control the political narrative and restrict free speech.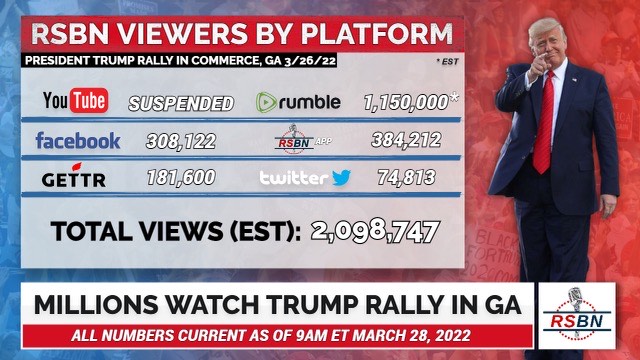 ###