Photo: Alamy
The U.S. Cybersecurity and Infrastructure Agency (CISA) warned state election officials that electronic voting machines made by Dominion Voting Systems in at least 16 states have serious issues leaving them vulnerable to hacking. The agency plans to announce the concerns in an advisory obtained by the Associated Press ahead of its Friday release.
According to the AP's report, the advisory names nine machine vulnerabilities and offers measures to prevent outside manipulation. CISA Executive Director Brandon Wales urges states to increase cyber security "defensive measures to reduce the risk of exploitation of these vulnerabilities" ahead of elections. 
The Associated Press noted:
"The U.S. Cybersecurity and Infrastructure Agency, or CISA, said there is no evidence the flaws in the Dominion Voting Systems' equipment have been exploited to alter election results."
The CISA's voting machine warning follows a report by University of Michigan computer scientist J. Alex Halderman, who suggests election officials go back to using hand-marked paper ballots because computers are at high risk for hacking and require a heightened level of security.
"These vulnerabilities, for the most part, are not ones that could be easily exploited by someone who walks in off the street, but they are things that we should worry could be exploited by sophisticated attackers, such as hostile nation states, or by election insiders, and they would carry very serious consequences," Halderman told the outlet.
While Dominion machines have been highly criticized following claims that the machines caused vote manipulations in the 2020 presidential election, Halderman insists that it is an "unfortunate coincidence" that the earliest vulnerabilities found and reported to CISA involved Dominion machines.
Halderman also said that "serious problems" would also be found in voting machines from other vendors if they were tested.
"There are systemic problems with the way election equipment is developed, tested and certified, and I think it's more likely than not that serious problems would be found in equipment from other vendors if they were subjected to the same kind of testing," he added.
Commenting on the Associated Press report, President Trump's spokeswoman Liz Harrington wrote, "Hard to follow this spin from AP, but they'll try!"
"Cyber experts say voting machines are so vulnerable you should only use hand marked paper ballots but don't you dare ask about 2020, because if you do that's why the machines are so vulnerable!" Harrington wrote.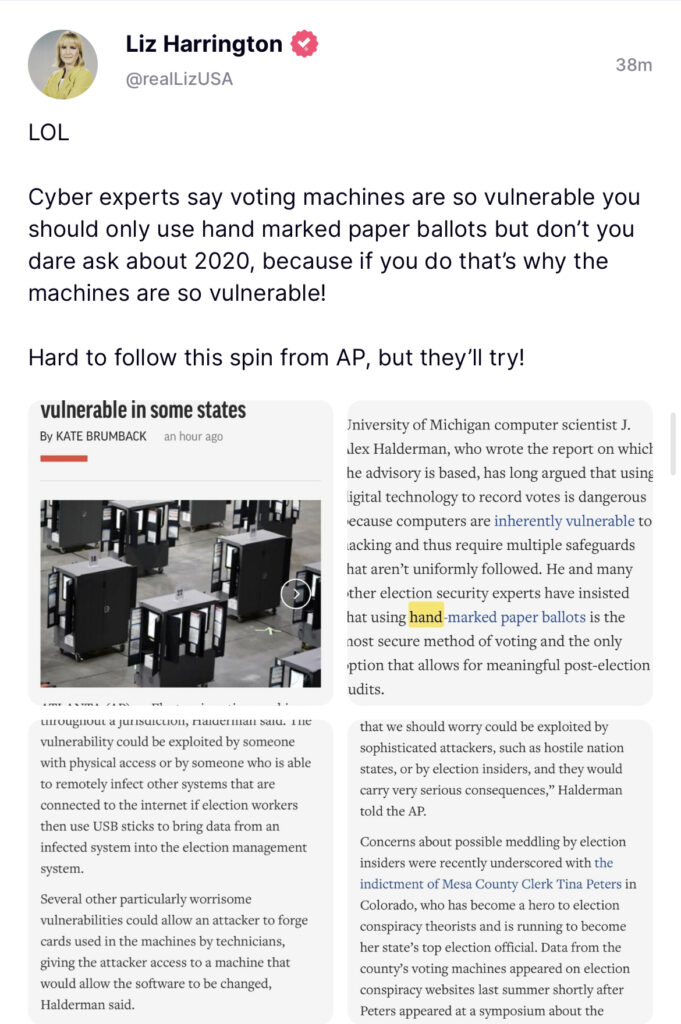 The security of voting machines has been at the forefront of the debate regarding illegal activity during the 2020 presidential election.
My Pillow CEO Mike Lindell has been sounding off alarms regarding these cyber threats to our elections process. He  announced on RSBN last weekend that there is an upcoming film called, "Selection Code," about "what's inside the machines."
"It's over," he added.
Lindell also recently announced he is filing a second preliminary injunction to remove voting machines in Alabama. The MyPillow CEO is making efforts to file other preliminary injunctions in multiple states across the nation.