Photo: Alamy
Governor Ron DeSantis, R-Fla., was ripped by the media this week for his endorsement record of political candidates, resulting in what the Trump campaign called "A Culture of Losing."
In a statement, the Trump campaign shared a series of headlines from prominent news organizations like Forbes, The Hill, and The New York Times that slammed the Florida governor for lackluster performances from his endorsed candidates of choice in his home state and beyond.
According to Newsweek, DeSantis has suffered from 16 endorsee losses stemming all the way back to the 2022 midterm elections. More recently, his endorsed candidate in the Florida Jacksonville mayoral race, Republican Daniel Davis, was defeated by Democrat Donna Deegan in a narrow upset, per The New York Times.
DeSantis, who is expected to announce a potential 2024 presidential campaign this year, drew criticism from President Donald Trump on Truth Social.
"Wow! In a big upset, the DeSanctimonious backed Republican candidate for Mayor of Jacksonville, Florida, LOST," Trump wrote.
He continued, "This is a shocker. If they would have asked me to Endorse, he would have won, easily. Too proud to do so. Fools! This is a BIG LOSS for the Republican Party. Remember, 'Rob' only won because of me!!!"
Newsweek also reported that DeSantis's endorsed candidate in the Kentucky gubernatorial race, Kelly Craft, lost her primary race this week. Kentucky Attorney General Daniel Cameron won the nomination with the backing of President Trump.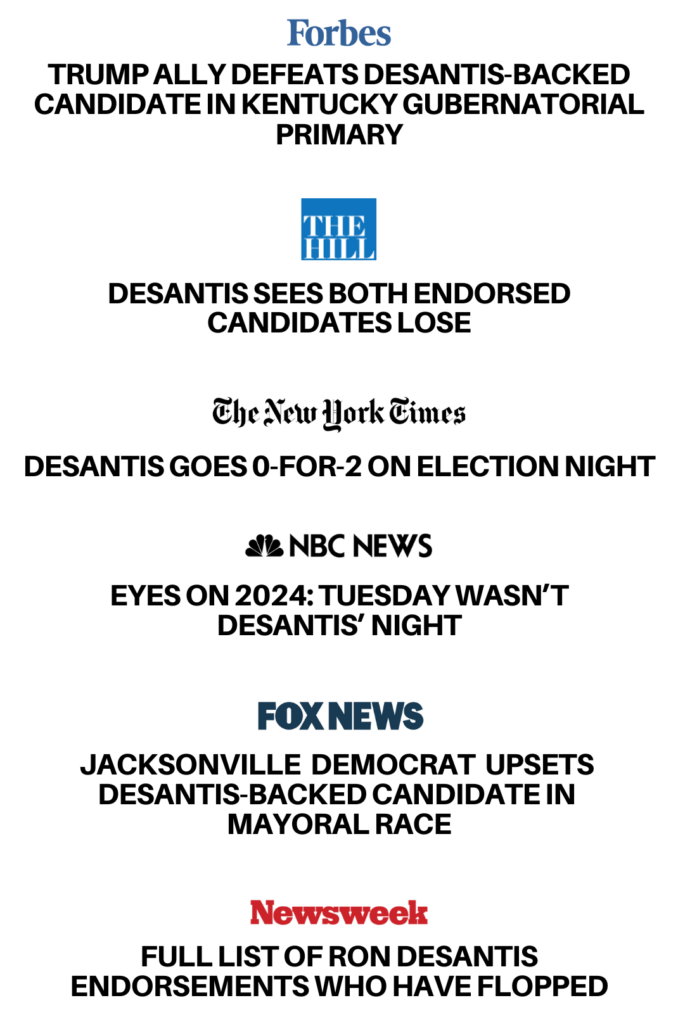 Trump remarked, "He had my Complete and Total Endorsement. The DeSanctimonious backed candidate came in a DISTANT third. Ron's magic is GONE! He also lost, shockingly, in Jacksonville last night (Mayor)."
DeSantis's endorsement does not yet appear to hold the same power as a coveted Trump endorsement. According to Rasmussen, 2024 GOP primary voters favor Trump as the Republican nominee for president next year by a whopping 45 points. By contrast, DeSantis held just 17 percent of support in that same poll.