Photo: Alamy
Former congressman and current CEO of Trump Media & Technology Group (TMTG) Devin Nunes commented on California's Democrat Gov. Gavin Newsom's move to join Truth Social on Thursday.
During an interview with "Wake Up America" on Newsmax, Nunes pointed out that "Truth Social is about an open, free space…we encourage that political discussion. That's what social media is supposed to be about."
On Thursday, Gov. Newsom joined the Truth Social platform stating that he knew "we're all on this platform in search for the truth, but the truth is, I've not been able to find a simple explanation for the fact that we have a red state murder problem."
Despite Newsom's attack on conservative "red" states, Nunes stated, "What the bottom line is – it's fine. We want Gavin Newsom on the platform, right? We want to welcome Republicans, Democrats, anyone. We're for everyone. In fact, we're trying to make social media fun again."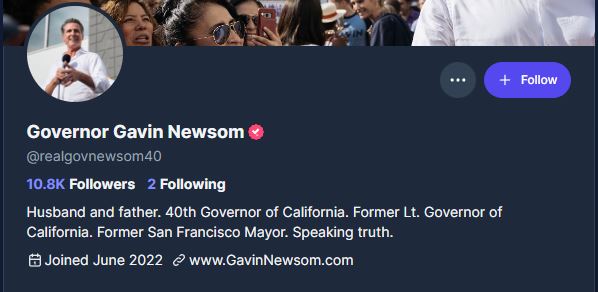 Truth Social was launched in February and has quickly become a successful social media platform that has attracted users of diverse political backgrounds. The site has rapidly expanded its features, adding updates like "quoting" posts and even offering insight into "trends" so users can keep an eye on hot topics of conversation on the platform.
Truth Social was kickstarted by President Trump as an alternate form of social media, promising no censorship after many people – including the 45th president – were permanently banned from "Big Tech" platforms like Twitter and Facebook.
However, Twitter is in the process of being acquired by Tesla and SpaceX CEO Elon Musk, who has recently threatened to terminate the deal if the platform did not provide data critical to closing the deal. The information Musk is seeking relates to the number of spam and fake accounts on the site.
"There's no way he [Trump] gets back on Twitter, and here's why," Nunes said, commenting on the situation. "Twitter is just a global PR wire, okay?" He added, "It's got good branding – but they don't have very many users."