Photo: Alamy
Trump Media & Technology Group (TMTG) CEO Devin Nunes offered new information about upcoming features on Truth Social during an episode of his show, "The Devin Nunes Podcast."
"We have done a slow, staged, methodical launch of Truth Social," Nunes said, "because we're not using any of these companies that could cancel us…we can't lose our servers, right? We're on the Rumble cloud, who are partners with us."
He added that those on the platform from the beginning "know that every day we improve – the features improve."
Nunes also revealed that the company has "ten features" it wants "to get built this year" and that the newest platform update from last week brought the company to "number five" on that list.
"The additional features are very complex for us to build," he added, "because we're trying to take the best of TikTok and Facebook and Instagram and the other platforms…we're trying to make it simple to use, easy to use, so, the best of all, but make it intuitive, that's our goal here."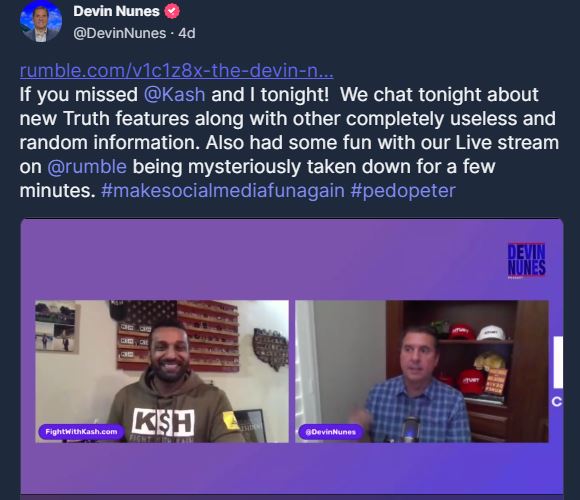 Nunes further addressed the hot-button question of when the app will be available in the Android store. So far, Truth Social has been available for iOS users and those with a desktop web browser.
"The short answer is, look, we want to be on the Google Play Store already. But…as many of you already know, it's not our decision," he stated.
The former congressman added that Truth Social had submitted all the paperwork necessary to get the app into the Google Play Store. The company is only waiting on official approval before moving forward.
"We're hopeful that they're going to approve us," Nunes reiterated.
Nunes additionally revealed support features on Truth Social, which enable users to tag technical support when they are experiencing issues at help.truthsocial.com. Nunes said that Truth Social is also planning to expand its reach internationally.
"Stay tuned!" he hinted. "We're going to be opening [to] probably our first country or two in the next few weeks."
Nunes later added, "As you all know, we had the big update last week, where went away from just having the simple feed and the timeline feed, to where now we have scrolls, ten-minute videos, all those great things our team is working on…"