Photo: Alamy
After news broke that President Trump has been indicted for a second time, he posted a video to Truth Social addressing the situation.
"I AM AN INNOCENT MAN. THE BIDEN ADMINISTRATION IS TOTALLY CORRUPT. THIS IS ELECTION INTERFERENCE & A CONTINUATION OF THE GREATEST WITCH HUNT OF ALL TIME. MAKE AMERICA GREAT AGAIN!!!" wrote Trump.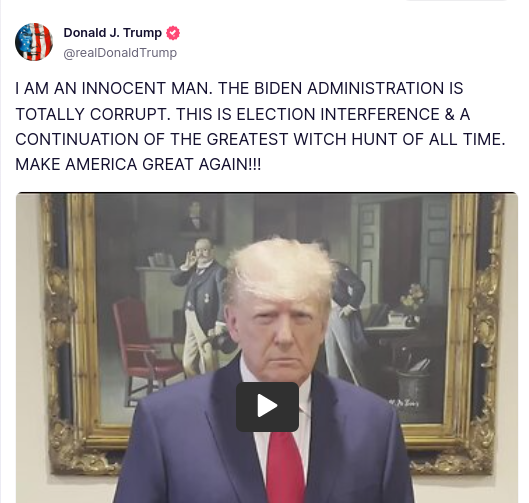 In the video, he reminded voters about, "The Russia, Russia, Russia hoax" where Democrats accused him of colluding with Russia to influence the 2016 election. He was impeached over this accusation, and vilified by the mainstream media, but the recent release of the Durham report revealed that the FBI knew it was a hoax created by the Clinton campaign. 
President Trump stated, "If they would devote their energies to honesty and integrity it would be a lot better for our country."
He also noted, "They come after me because now we're leading in the polls by a lot."
President Trump has remained popular despite two impeachments, and now, two indictments. Supporters continue to question America's election process and decry a two-tiered justice system. Now, the weaponization of the DOJ and election interference are topics of concern. 
President Trump discussed this stating, "Weaponizing the justice department, weaponizing the FBI, we can't let this continue to go on because it's ripping our country to shreds."
He then decried the second indictment, "It's a hoax. The whole thing is a hoax."
After the Russia collusion hoax, and two faulty impeachments, the American people are questioning why the current government continues to investigate the 45th president.
President Trump explained, "It's called election interference. They're trying to destroy a reputation so they can win an election."
Intimidation and other forms of election interference have been recorded in different areas of the globe for nearly a century, per World Atlas. Rigged elections and political manipulation are not unknown to other countries but they go against the entire American electoral process and the foundation of the country's structure to be governed "by the People, for the People." 
In order to serve the people, President Trump has pledged to fight back. He said, "I'm an innocent man. We will prove that again."