Photo: Alamy
President Trump addressed his "CRAZY!" week in a Truth Social post on Friday and called upon the Supreme Court to "intercede."
He said, "My political opponent has hit me with a barrage of weak lawsuits, including D.A., A.G., and others, which require massive amounts of my time & money to adjudicate."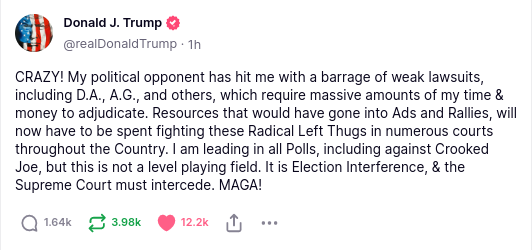 President Trump noted that these are funds he would otherwise have used for his 2024 presidential campaign and that the current situation "is not a level playing field."
He decried it as "Election Interference," and stated that "the Supreme Court must intercede."
At his Thursday arraignment, President Trump told reporters, per RSBN, "This is the persecution of the person that's leading by very, very substantial numbers in the Republican primary and leading Biden by a lot."
"If you can't beat him, you persecute him or you prosecute him," he added.
In addition, RSBN reported that attorney and former Harvard law professor Alan Dershowitz discussed the situation Wednesday and concluded that President Trump "will probably win in the United States Supreme Court." 
He also explained that because the Biden administration is prosecuting their primary political opponent, to prove that this is lawful, the case against President Trump must be "the strongest case in history."
Americans and leaders have continuously questioned the motives behind the charges.
President Trump also wrote a post on Friday, stating, "Nothing like this" has been allowed in the United States before.
He also questioned whether it "Must be Unconstitutional?"