Photo: Alamy
President Donald Trump has decried the unprecedented surprise attacks on Israel carried out by Hamas.
He released a statement Saturday morning that read, "These Hamas attacks are a disgrace, and Israel has every right to defend itself with overwhelming force."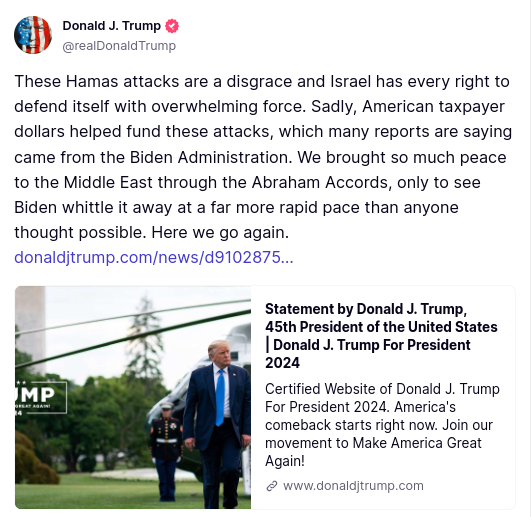 He then slammed the Biden administration for utilizing "American taxpayer dollars" to help "fund these attacks."
"We brought so much peace to the Middle East through the Abraham Accords, only to see Biden whittle it away at a far more rapid pace than anyone thought possible," he added.
This is in response to Hammas unleashing the surprise attacks on Israel early Saturday morning during the Jewish festival of Sukkot, per the Associated Press.
President Trump negotiated four historic peace deals in the Middle East during his first term in office, according to the National Archives. However, upon taking over, Biden removed Trump's funding freeze to Palestine, offering millions in 2021, according to Forbes.
Hamas is "a spin-off of the Palestinian branch of the Muslim Brotherhood," per the Council on Foreign Relations. Although they cannot receive direct funding from the U.S. government, it is uncertain what political ties they host within Palestine, and neighboring Iran is one of their largest financial supporters of Hamas.
Last month, RSBN reported that Joe Biden unfroze $6 billion in Iranian funds in what President Trump called "ransom money" due to a hostage situation in which prisoners were released for the payment.