Photo: Alamy
President Trump called out his indictment in a Truth Social post on Wednesday.
He stated, "IF I WASN'T RUNNING FOR PRESIDENT, OR IF I WAS LOSING BADLY IN THE POLLS (I AM WINNING BY RECORD NUMBERS, & AGAINST BIDEN ALSO!), I WOULD NEVER HAVE BEEN FAKE INDICTED."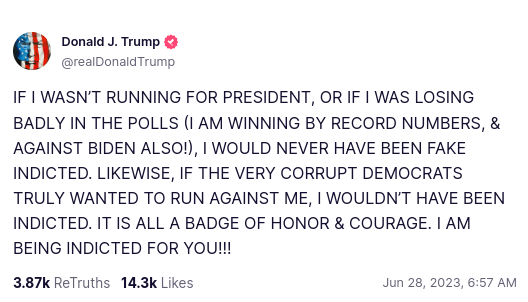 This comes just after President Trump gave a speech at the Lilac Luncheon for the New Hampshire Federation of Republican Women, Tuesday, where he received much support, per RSBN.
President Trump has gained 5 points in Republican primary polls, according to the Saint Anselm College Survey Center. This expanded his lead to 47 percent, which he posted Tuesday.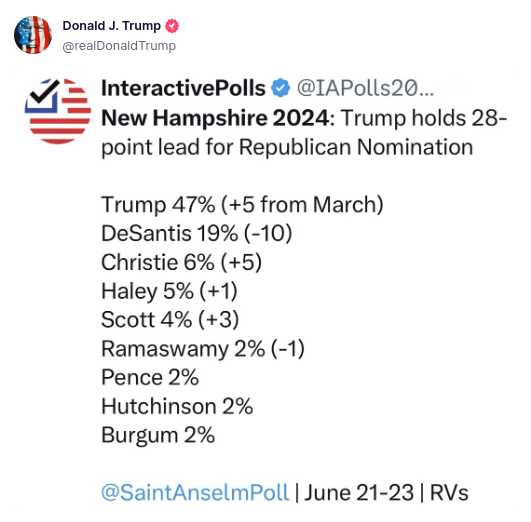 President Trump then elaborated in another post stating, "Please remember that the only reason I was indicted (ELECTION INTERFERENCE) is because the Democrats don't want to run against me. They weaponized the DOJ & FBI. I am beating Crooked Joe Biden in virtually every poll."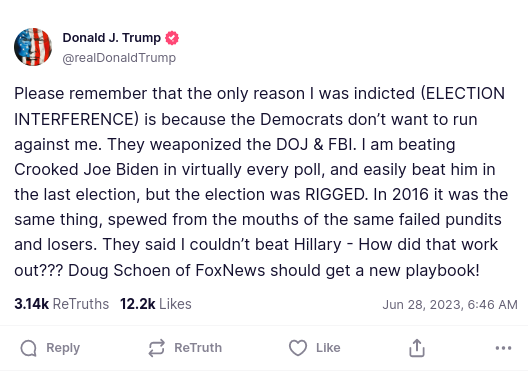 The most recent Messenger/HarrisX placed Trump ahead of Biden in the 2024 election as President Trump's current legal battles continue to make headlines but while the mainstream ignores questionable details regarding the charges, RSBN found that more than half of Americans believe that his latest indictment is "politically motivated."
There are inconsistencies being uncovered by the House Oversight Committee given the fact that the Biden family investigation has allegedly been blocked by the DOJ, per RSBN.
Regardless, President Trump continues his campaign. He noted in his Truth Social post that his indictment is "A BADGE OF HONOR & COURAGE."
Then he declared, "I AM BEING INDICTED FOR YOU!!!