Photo: Alamy
The Trump campaign has taken aim at Gov. Ron DeSantis's current political movements amid rumblings that the Florida governor is planning a 2024 presidential bid, questioning the permanence of the standing "Resign to Run" law in the Sunshine State.
"Florida Governor Ron DeSantis is currently on a month-long, taxpayer-funded presidential campaign schedule paid for by Florida taxpayers, and new questions are emerging as to whether this will force DeSantis to resign from office," a statement from the campaign asserted.
The campaign noted that this matter "highlights yet another flip-flop for DeSantis, who previously resigned from Congress to run for Governor to 'protect the taxpayers.'"
It is rumored that unidentified allies to DeSantis are reportedly mulling over eradicating or changing the standing state law to allow him to run for the office of the presidency without resigning as governor.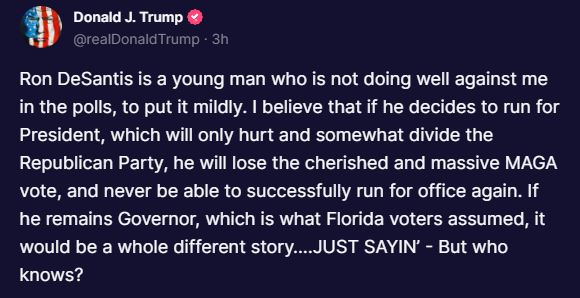 "At present, Florida has a 'Resign to Run' law that requires statewide officeholders to leave their positions if they're running for Federal office," the Trump campaign argued. "In remarks first shared with the Associated Press, Nova Southeastern University Law School Professor Bob Jarvis said, 'There is no ambiguity, no debate, no dispute. Under current law, DeSantis cannot run for president before first resigning as a governor.'"
Oddly, a preliminary draft of a Senate bill surfaced in the Florida legislature last Thursday evening that has prompted rampant speculation that a resign-to-run change is on the horizon.
The bill, SPB 7050, was posted to the Florida Senate's website by the Ethics and Elections Committee while news of President Donald Trump's indictment in Manhattan broke, via City & State Florida.
However, the outlet further reported that despite Senate President Kathleen Passidomo's comments that she didn't "think" a resign-to-run change would be included in SPB 7050, she has previously stated that it would be a "good idea" to allow a sitting governor to run for president.
The Trump campaign stated that DeSantis reportedly plans to visit Israel, the U.K., Japan, and South Korea in April, which they called "taxpayer-funded globetrotting." His travel schedule is a continuation of his nationwide unofficial book tour, where the governor has visited states like Texas, Iowa, California, and Nevada to speak to GOP voters in critical conservative areas of the country.
"All of this brings us back to 2018, when DeSantis was running for Governor and resigned from Congress, noting it would be 'inappropriate' to 'accept a salary' when he would be missing 'the vast majority' or 'remaining session days,'" the campaign continued.
They concluded, "DeSantis' gubernatorial office, however, refuses to tell reporters – and the public – how much taxpayer money has been spent to fund these travels, or how much DeSantis' April globetrotting will cost."