Photo: Alamy
Michigan Judge James Redford dismissed a legal challenge to keep President Trump's name off the ballot on Tuesday, claiming that the secretary of state has no authority to intervene in primary elections. 
This decision follows a similar one in Minnesota, which saw President Trump's name stay on the ballot after liberal group Free Speech For People filed a lawsuit blocking his name from the ballot.
This is the second lawsuit that has tried to use the 14th Amendment this way, and the attacks of Jan. 6 to prevent President Trump's name from being displayed in the ballot box. 
NBC News reported what Judge Redford wrote about his ruling, that this matter must be dealt with in Congress. Judge Redford explained what the right process should be, "It is the process provided for in the Constitution and is preferable to potentially having 50 or more separate trials."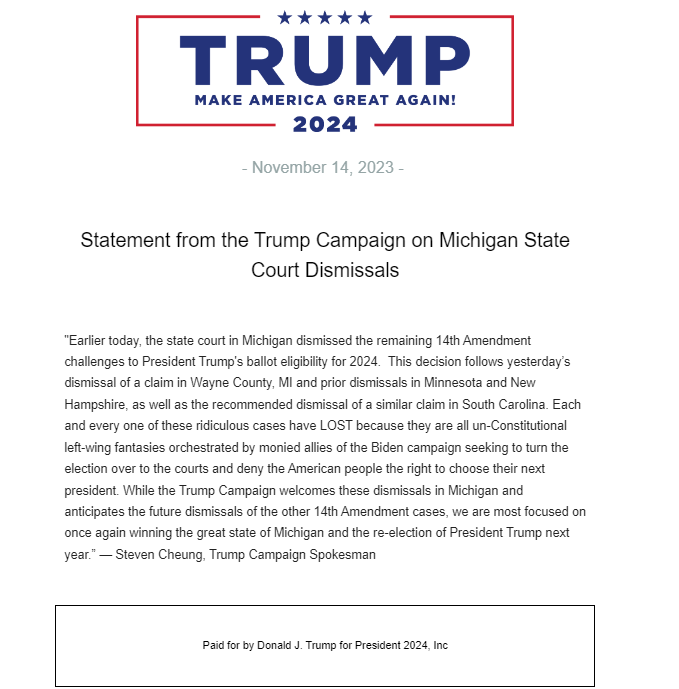 President Trump's campaign spokesperson, Steven Cheung, has welcomed the decision and released a press statement. He wrote, "Earlier today, the state court in Michigan dismissed the remaining 14th Amendment challenges to President Trump's ballot eligibility for 2024."
Cheung further wrote, "Each and every one of these ridiculous cases have LOST because they are all un-Constitutional left-wing fantasies orchestrated by monied allies of the Biden campaign seeking to turn the election over to the courts and deny the American people the right to choose their next president."
While President Trump welcomes this dismissal, Cheung advises that President Trump is focused on winning next year's elections. So far, President Trump has been dominating the polls with historic gains and receiving a large batch of endorsements, all while battling a sham fraud case in court.