Photo: Alamy
President Trump paid tribute to slain teenager Cayler Ellingson during Friday night's Save America rally, in Wilmington, North Carolina, calling him a "handsome" young man who was killed simply for being a Republican.
"18 years old, was targeted and killed, run down in cold blood with an SUV by a radical left maniac," Trump said. Referring to the killer, Trump added, "He was a radical left stupid person."
Cayler Ellingson was an 18-year-old Republican whose tragic story made headlines in conservative media this week after he was slain at the hands of a man who ran him down with a car. Per The Post Millennial, the killer, Shannon Brandt, had a political argument with the young conservative and slammed into the teen with his vehicle.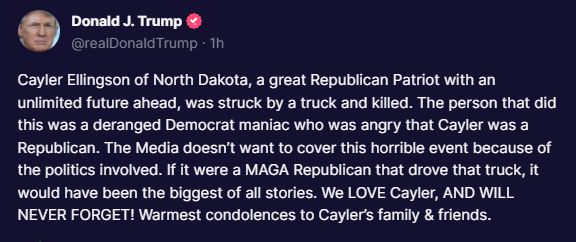 "And this guy ran him down," Trump told the crowd. "And not one mainstream media network has even mentioned this horrible crime – think of it…supposing a MAGA person ran down somebody on the other side? It'd be the biggest story you've ever seen."
Trump pointed to the media cameras and called them out: "It's a disgrace – you people should be ashamed of yourselves."
He added, "And our hearts go out to the parents and the friends."
On Friday, Trump preceded his comments in Wilmington with a statement posted on Truth Social:
"The person that did this was a deranged Democrat maniac who was angry that Cayler was a Republican. The Media doesn't want to cover this horrible event because of the politics involved. If it were a MAGA Republican that drove that truck, it would have been the biggest of all stories. We LOVE Cayler, AND WILL NEVER FORGET! Warmest condolences to Cayler's family & friends."
According to The Post Millennial, Ellingson's killer was unbelievably released on a $50,000 bond.