Photo: Alamy
President Donald Trump spoke out on Saturday about the "great Agents" within the FBI that are reportedly angry at the bureau's leadership going into and following their shocking raid on Mar-a-Lago.
"I hear [that] the great Agents and others in the FBI are furious at FBI leadership for what they are doing with respect to political weaponization against a President (me) that always had their backs, and they like (love!) a lot," Trump wrote on Truth Social.
In early August, Trump announced in an official statement through his Save America PAC that the FBI had raided and occupied his private residence in Palm Beach, Florida. The 45th president strongly condemned the action, stating that the "lawlessness, political persecution, and Witch Hunt must be exposed and stopped!"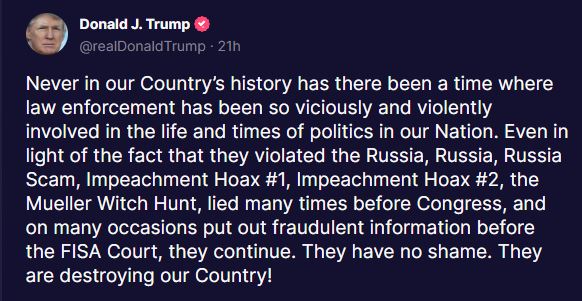 Trump added on Saturday that the FBI agents did not like being "used." "They don't like being 'used' by people they do not agree with, or respect," Trump stated. "Likewise, they are not exactly thrilled with the leadership at the DOJ! Similar to the revolt against Comey when he exonerated Crooked Hillary, but was forced, by them, to withdraw the exoneration!"
Interestingly, Rep. Jim Jordan, R-Ohio, recently revealed during an interview on Fox News that 14 FBI whistleblowers had visited with the congressman to expose behind-the-scenes information on the political weaponization of the Justice Department.
Per RSBN, Jordan stated that "Some of these good agents are coming to us, telling us this is baloney, what's going on — the political nature now of the Justice Department — God bless them for doing it — talking about the school board issue, about a whole host of issues."
Trump further shared on Truth Social that there had never been a time in U.S. history when "law enforcement has been so viciously and violently involved in the life and times of politics in our Nation."