Photo: Alamy
President Donald Trump responded to former advisor Peter Navarro's arrest by the FBI for defying subpoenas from the "political thugs" of the Jan. 6 House committee.
"Wow! Peter Navarro, our brilliant Harvard educated White House Trade Official who was by far the toughest advocate for Tariffs, Taxes & powerful Regulations on China, was just handcuffed, shackled, and put into prison because he didn't obey the orders of the Unselect Committee of political THUGS … They've gone CRAZY!!!" Trump posted on Truth Social following Navarro's arrest.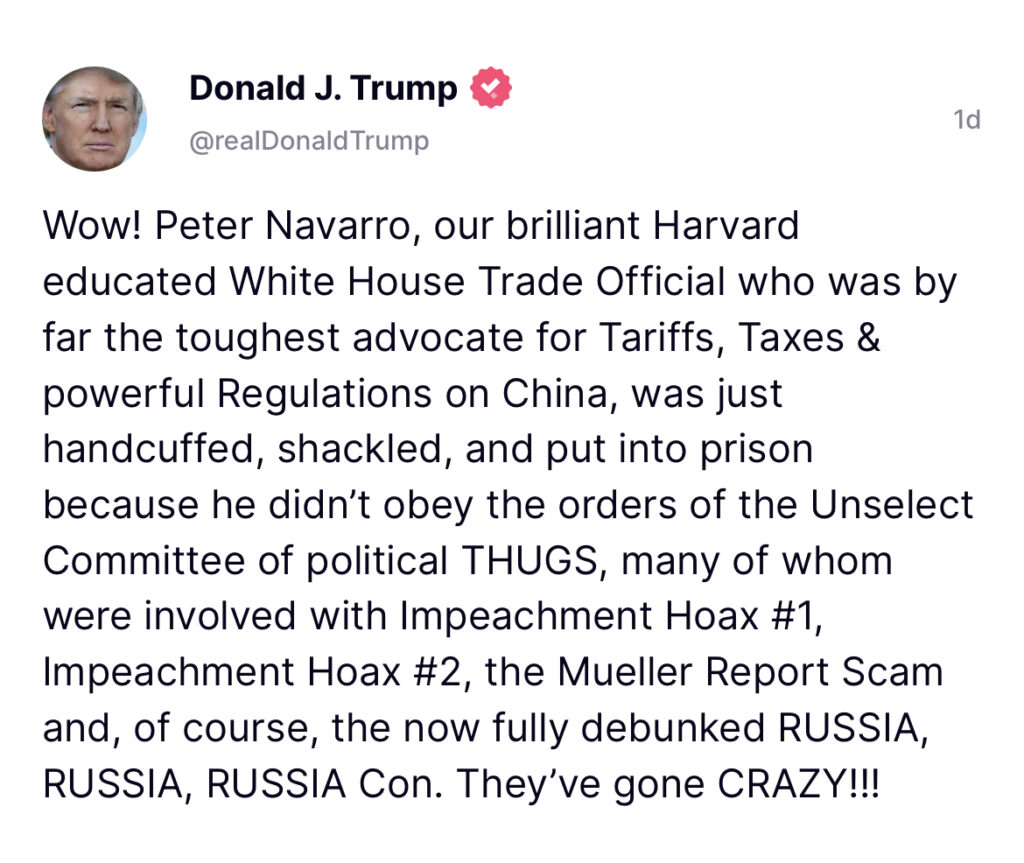 The former advisor announced he would represent himself in the legal battle after the Jan. 6 committee issued two charges of criminal contempt of Congress for refusing to comply with the committee's subpoenas for documents and testimony.
On Friday, Navarro was arrested by FBI officials at an airport in Washington, D.C., after being indicted by a federal grand jury the day prior.
"They intercepted me getting on the plane, and then they put me in handcuffs," Navarro said, recalling his arrest. "They bring me here, they put me in leg irons, they stick me in a cell. … What they did to me today violated the Constitution."
Navarro explained his plan to represent himself, stating he does not "want to be dragged down into the muck, spending hundreds of thousands of dollars of my retirement savings on this kind of venture."
Navarro is the second former White House staff to be charged concerning the events of Jan. 6. Last year, the partisan committee indicted Trump's former chief strategist Steve Bannon for withstanding the committee's subpoena, and he will head to trial in July.
However, on the same day Navarro was indicted, the Department of Justice moved not to charge former Trump administration officials Mark Meadows and Dan Scavino for not cooperating with the Jan. 6 committee.