Photo: Alamy
President Trump took a shot at Florida Gov. Ron DeSantis (R) in a Sunday statement posted to Truth Social, touting his superiority in the polls and railing on DeSantis for his policies during the Covid pandemic.
"The revelations about Ron DeSanctimonious doing FAR WORSE than many other Republican governors, including that he unapologetically shut down Florida and its beaches, was interesting, indeed," Trump wrote. "DJT leading BIG!!!"
The president also shared a picture from another Truth user on Monday that included screenshots of headlines written in 2020, comparing his Covid pandemic policy against Gov. DeSantis's. "Remember this?" Trump commented. "Some Republican states got it right, Florida got it wrong!"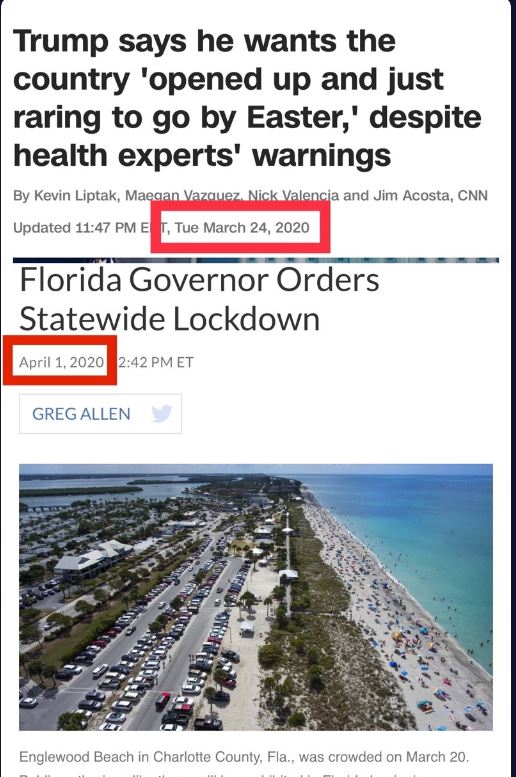 Trump's remarks come after a busy weekend for the 45th president as he kicked off his 2024 presidential campaign on Saturday in Salem, New Hampshire, with a keynote address to the New Hampshire Republican State Committee. He also spoke at the South Carolina State House on Saturday afternoon, unveiling his leadership team in the Palmetto State.
"The Fake News Media was good yesterday in their coverage of my stops in New Hampshire and South Carolina," Trump said on Truth Social. "Other than The Globalist Street Journal, which is rarely accurate or good, they said the day was really 'amazing.' The enthusiasm to MAKE AMERICA GREAT AGAIN has never been stronger."
Trump has dominated primary presidential polling over the last few weeks, eclipsing Gov. DeSantis by double-digit margins among primary Republican voters. As reported by RSBN, a new poll from Premise found that 59 percent of Republicans preferred Trump as the Republican nominee in 2024, compared to only 24 percent who preferred DeSantis.
Trump also emerged the victor in the eyes of the American voters in a new Emerson College poll, which revealed that he had garnered 55 percent of support for the nomination, while Gov. DeSantis had accrued 29 percent.
President Trump told reporters onboard Trump Force One over the weekend that he would consider a presidential bid from DeSantis as a sign of disloyalty.
Trump stated, "He would have not been governor if it wasn't for me – and that's okay. Number one, he wouldn't have gotten the nomination, and number two, he wouldn't have beaten his Democrat opponent. So, then, when I hear he might run, you know, I consider that very disloyal."