Photo: Alamy
President Donald Trump wasted no time in roasting Gov. Ron DeSantis (R) following the anticipated launch of the Florida leader's 2024 presidential campaign on Twitter Spaces on Wednesday evening.
The president posted a video on his Truth Social account poking fun at the technical difficulties that users experienced online while getting Twitter Spaces up and running, contrasting footage from Trump's November 2022 presidential announcement versus DeSantis's online announcement, with a screenshot from the Internet announcement that stated, "Preparing to launch…"
Trump also shared a video that ripped DeSantis's announcement with a video of a rocket failing to launch and exploding on the launchpad.
The 45th president additionally shared a parody clip from Twitter Spaces that included Twitter CEO Elon Musk, Gov. DeSantis, and a host of supporters whom Trump is insinuating, both literally and figuratively, is secretly supporting the governor's campaign: WEF Chairperson Klaus Schwab, Democrat donor George Soros, former Vice President Dick Cheney, Adolf Hitler, the "Devil," and the FBI.
"I know Ron," Trump wrote on Wednesday night. "The way he handled his announcement, he will handle the Country!"
DeSantis entered the race this week after months of speculation, following the governor's decision to travel to key battleground states in early 2023 to share his "Florida Blueprint" for success, as well as his new book, "The Courage to be Free."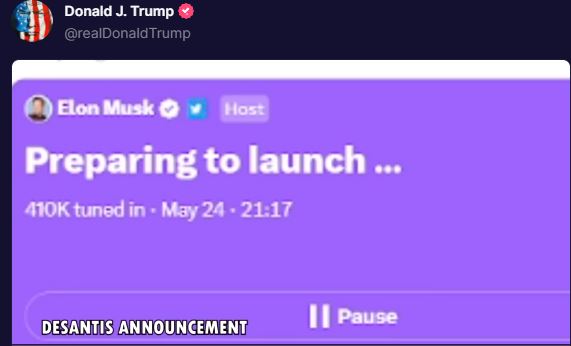 According to the DeSantis campaign, the governor's initial campaign launch video raked in a combined 30 million views in the first 15 hours despite Twitter's technical difficulties. The presidential announcement, which was held completely online for the first time in presidential history, was a stark contrast to President Trump's 2024 presidential candidacy announcement, which was held at Mar-a-Lago last year.
Right now, Trump is the overwhelming frontrunner in the 2024 GOP primary race, leading DeSantis by an average of 30 points. According to FiveThirtyEight polling, Trump is holding a 33.7-point lead over DeSantis with GOP voters.