Photo: Alamy
President Donald Trump may have left Washington D.C. in 2021, but he has not left the side of the American people. The 45th president has been hard at work, stumping for a slate of stellar GOP candidates ahead of the 2022 midterms.
At a Save America rally held recently in Prescott Valley, Arizona, Trump told a crowd of eager supporters, "If I renounced my beliefs, and if I agreed to stay silent, and if I stayed home and took it easy, if I announced that I was not going to run any longer for political office, the persecution of Donald Trump would immediately stop – you know that, right?"
He added, "But, that's not what I do. I can't do that…because I love this country, and I love you."  
The People Want Trump
Trump has jumped headfirst into the political fray, working harder than perhaps any president has ever worked after leaving the White House. He has played the part of a strategic kingmaker by moving America First senators, governors, representatives, attorneys general, and secretaries of state into place.
Polls and surveys routinely demonstrate Trump's domination of the GOP landscape. He routinely nets the lion's share of likely U.S. Republican voters and Republican-leaning Independent voters ahead of a potential bid in the 2024 presidential primary race.
A brand-new Turning Point USA Student Action Summit straw poll remarkably gave Trump a staggering 78.7 percent of the potential vote in a primary race – again reinforcing the undeniable fact that American conservatives want Trump back in the office, and they are unlikely to settle for anything less.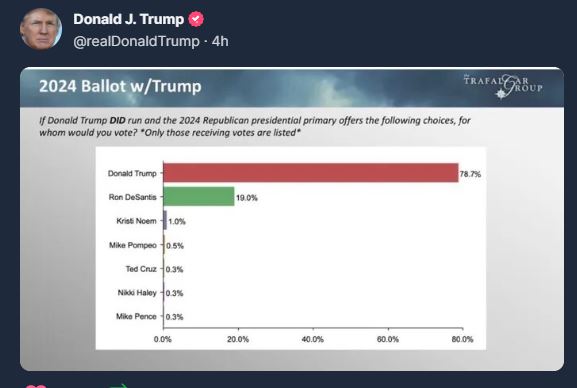 Although Trump has not officially announced whether he will be running for office in 2024, he told New York Magazine in July that he had already "made that decision." The only question remaining is when he will make that decision public.
However, many Americans are understandably concerned about the state of American elections, especially considering countless reports and evidence of election fraud in 2020.
"The election was rigged and stolen, and now our country is systematically being destroyed because of it," Trump said on Friday.
Election Integrity
Trump's genius is not only in his strong leadership skills or his ability to bring together Americans from all walks of life. As he endorses candidates to run in the midterm elections, he specifically lends his support only to those who are ready, willing, and able to rectify issues of election security in the U.S. In doing so, he is also facilitating a path forward toward bolstering election integrity and eliminating the threat of voter fraud and ballot trafficking in the upcoming presidential election in 2024.
Kari Lake, the gubernatorial Trump-endorsed frontrunner ahead of August's heated primary race, has tackled election integrity head-on by filing an injunction in tandem with state Rep. Mark Finchem (who has also been endorsed by Trump in the Arizona race for secretary of state) to ban the use of voting machines in the 2022 midterm elections.
Likewise, Trump-endorsed candidates in Michigan, Kristina Karamo, who is running for secretary of state, and Matt DePerno, who is running for attorney general, won their primaries in April. Both have vocalized their intent to secure the election processes.
"They easily beat their RINO challengers because Matt and Kristina are unafraid to speak honestly about the Rigged and Stolen 2020 Presidential Election," President Trump stated after their victories.
In July, Trump had already netted a 132-7 endorsement success record in the midterm season so far.
Securing Elections With Midterm Victories
Every step Trump takes toward securing the victories of America First candidates who have vowed to fight for election integrity is one step closer to securing the White House for a Republican in 2024. If elections are free and fair, then the prophetic "red wave" that the GOP is poised to ride to the polls in November will be unstoppable.
"Ultimately, we want same-day voting," Trump told supporters during remarks delivered at the American Freedom Tour near Memphis, Tennessee. He also noted the proof presented in Dinesh D'Souza's "2000 Mules," which exposed shocking evidence of a nationwide ballot trafficking conspiracy during the 2020 presidential election.
"It's out there to look at, and we can never let this happen again," President Trump added.
According to a recent survey from Rasmussen Reports, 83 percent of all likely U.S. voters today are concerned about election integrity, blowing the media narrative of unsubstantiated "election conspiracy theories" to pieces. Americans are clearly worried about the integrity of the U.S. election system, and with good reason: without fair elections, the country cannot be free.
Trump's move to endorse candidates around the country who believe in securing election systems and are willing to examine the reports of fraud that have surfaced since 2020 is not only strategic but brilliant.
President Trump's new cadre of America First candidates are poised to take back Congress in 2022, which would provide a surefire path to passing legislation that could secure the elections in the U.S. and protect a 2024 presidential race from being compromised by potential fraud, ballot trafficking, and election irregularities.