Photo: Alamy
Election integrity group VoterGA has announced a legal challenge against the primary election results in the race for Secretary of State in Georgia. VoterGA co-founder Garland Favorito delivered a startling press conference on Thursday, laying out the evidence behind their challenge against 159 Georgia counties, requesting that ballots cast in the primary election be unsealed.

In the four-way primary race, VoterGA contends that Secretary of State Brad Raffensperger (R), invalidated his victory by pushing to prematurely certify his own election results in June. "He had until the 10th [to certify]," Favorito stated. "…He [Raffensperger] forced them to certify on the 6th…instead of trying to resolve the problems [with the voting discrepancies], he tried to get them to certify as quickly as possible…"
VoterGA further condemned Raffensperger's actions in the primary election, citing numerous moves he allegedly made to secure victory in the race. VoterGA claimed that the secretary of state purchased an unverifiable QR-coded voting system against VoterGA's recommendation and that this system violated two standing Georgia laws.
Favorito pointed out that Georgia's voting system must provide an elector with a verifiable, paper ballot in addition to producing paper ballots that are marked with the "elector's choices in a format readable by the elector."
Additionally, VoterGA says Raffensperger filed an Amicus Brief in a Fulton County ballot case to oppose the unsealing of ballots. Raffensperger reportedly failed to ensure that the other races were accurate on a county-by-county level after DeKalb County election results were shown to be incorrect, the group claims.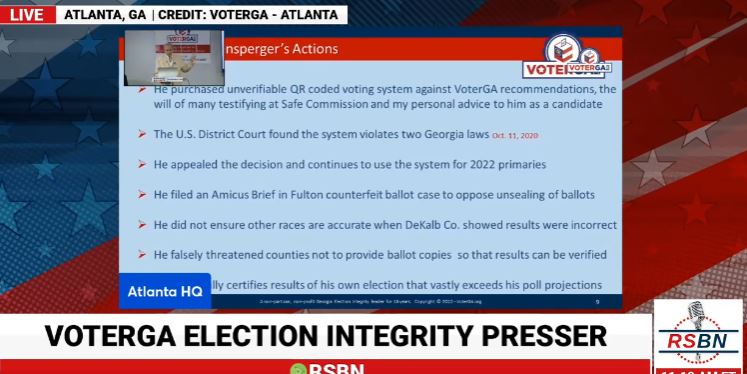 For example, a review of the manufacturer's voting systems in DeKalb by the secretary of state's office showed that DeKalb County voting systems "did not conform to law." VoterGA said that the system could "no longer be safely or accurately used by electors at primaries."
"No complete race has been proven to have correct results, so the Dominion voting system is now shown to have a 0% accuracy rate in the 2022 primary," VoterGA stated.
This press conference was preceded by hand count evidence that showed Georgia's voting systems may have added 15 percent to Raffensperger's total vote count in June.