Gold Star mother Shana Chappell says that Facebook disabled her Instagram account after she posted a message criticizing Joe Biden over the death of her son, U.S. Marine Kareem Nikoui, who was killed in action in Kabul.
Nikoui, 20, lost his life in the suicide bombing committed by ISIS-K near the Kabul International Airport last Thursday.
Donald Trump Jr. called Facebook's abhorrent move to censor the young marine's mother "disgraceful."
Chappell's Instagram account was reportedly disabled after she posted details about her disappointing meeting with Biden.
According to Chappell, Biden approached her and told her that he understands how she feels. She told Biden that he does not understand how she feels, to which Biden reportedly rolled his eyes, turned around, and threw his hands up in the air. She added that Biden disrespectfully checked his watch at least five times during the dignified transfer of the 13 fallen troops.
The slain Marine's mother posted her experience meeting Joe Biden on Facebook, but her post was later removed the Mark Zuckerberg-owned social media platform.
Chappell explained that Instagram suddenly began flagging her posts she made months ago before they disabled her account entirely.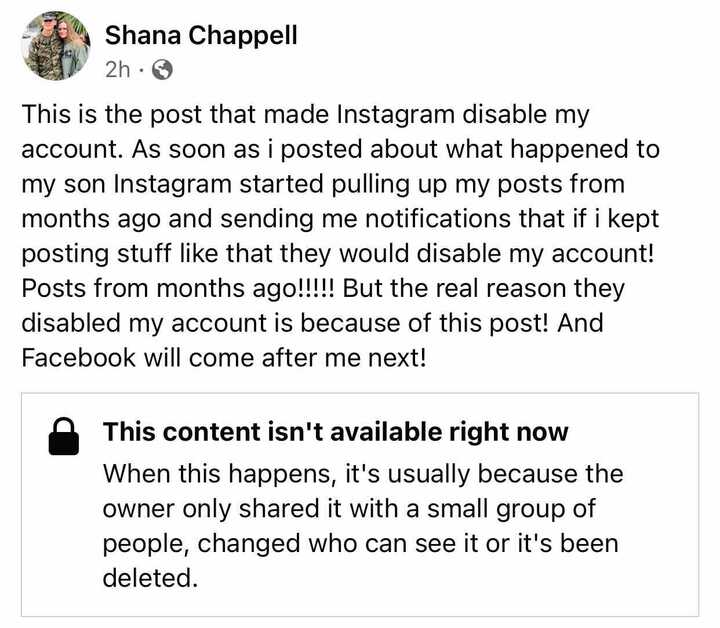 Chappell wrote it seems Instagram deleted her account because she "gained so many followers" over her "sons death due to Biden's negligence, ignorance and him being a traitor!" Sending a strong message to Facebook, she added, "You deleted my account because my sons blood is on Biden's hands!! 13 Heros blood is on Biden's hands!!!!"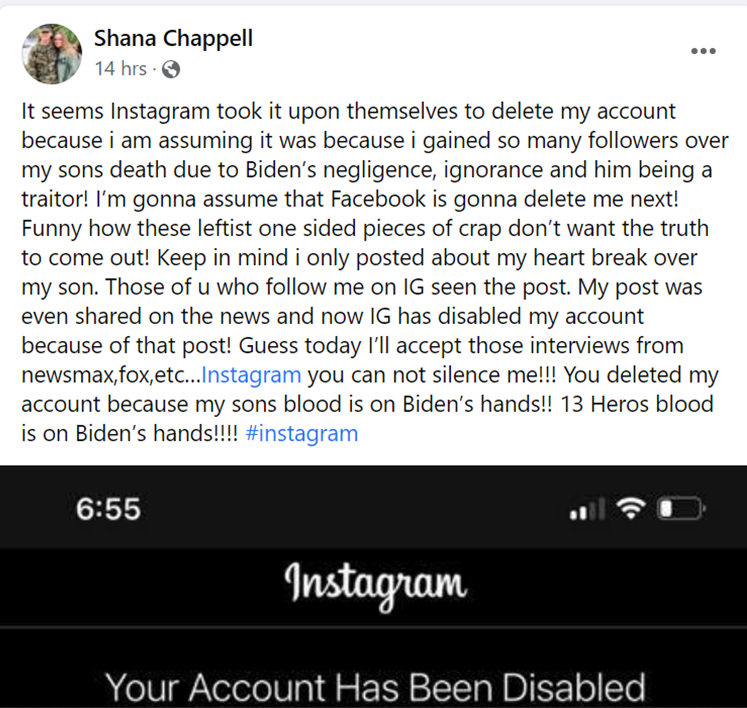 An Instagram spokesperson released a statement citing that her account was allegedly removed in error.
"We express our deepest condolences to Ms. Chappell and her family," said the Instagram spokesperson. "Her tribute to her heroic son does not violate any of our policies. While the post was not removed, her account was incorrectly deleted and we have since restored it."
Following immense backlash, Instagram has since reportedly restored Chappell's account.