YouTube this week hit Right Side Broadcasting Network with a punitive "strike," preventing us from uploading videos or live-streaming for seven days.
"Your content was removed due to a violation of our Community Guidelines," reads YouTube's notice issued on Friday. "Your channel now has 1 strike. You won't be able to do things like upload, post, or live stream for 1 week."
"A second strike will prevent you from publishing content for 2 weeks," YouTube warned. A dreaded third strike within 90 days would mean permanent deletion of RSBN's channel.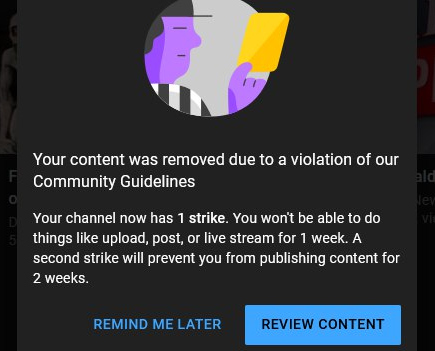 Since the 2020 presidential election, RSBN's streams have been repeatedly censored by Google-owned YouTube, a platform that silences free speech while allowing graphic violence and the Taliban to speak freely. 
RSBN was previously punished for similarly vague alleged violations of YouTube's selectively enforced "standards," but after fair review, that strike was lifted on Sept. 30, 90 days later. The very day that strike was lifted, YouTube immediately issued another.

Vimeo, another popular video platform, has also flagged RSBN's account for "manual review" for posting what they considered "conspiracy-related" content.
To avert continued censorship by these platforms, RBSN is diversifying the way it communicates with viewers.
We urge you to stay in touch with us by downloading the RSBN mobile app, following us on Rumble, and signing up for email alerts for rallies and other relevant news content. Don't let Big Tech silence us – make sure you know how to receive updates!