Photo: Alamy
Following the release of a bombshell report on how Twitter actively engaged in censorship before the 2020 election, America First Legal (AFL) announced it uncovered an underground Twitter portal that government officials would use to censor Covid-related posts.
AFL announced the discovery on Twitter Tuesday, writing, "BREAKING: Following the #TwitterFiles, AFL has obtained new documents uncovering a secret Twitter portal U.S. Govt officials used to censor dissenting COVID-19 views and violate the First Amendment."
According to the AFL's report, the organization uncovered damning evidence that the Centers for Disease Control and Prevention (CDC) colluded with social media companies to censor free speech under the guise of "misinformation."
Moreover, the organization found that Twitter used a "Partner Support Portal" where government officials and "stakeholders" submitted posts to flag as "misinformation" or to take down, the report claimed.
Specifically, the report revealed that CDC official Carol Crawford was enrolled in Twitter's Partner Support Portal in 2021, which allowed for a "special, expedited reporting flow in the Twitter Help Center."
The revelation was uncovered by emails between Twitter employee Todd O'Boyle and Crawford, obtained by AFL.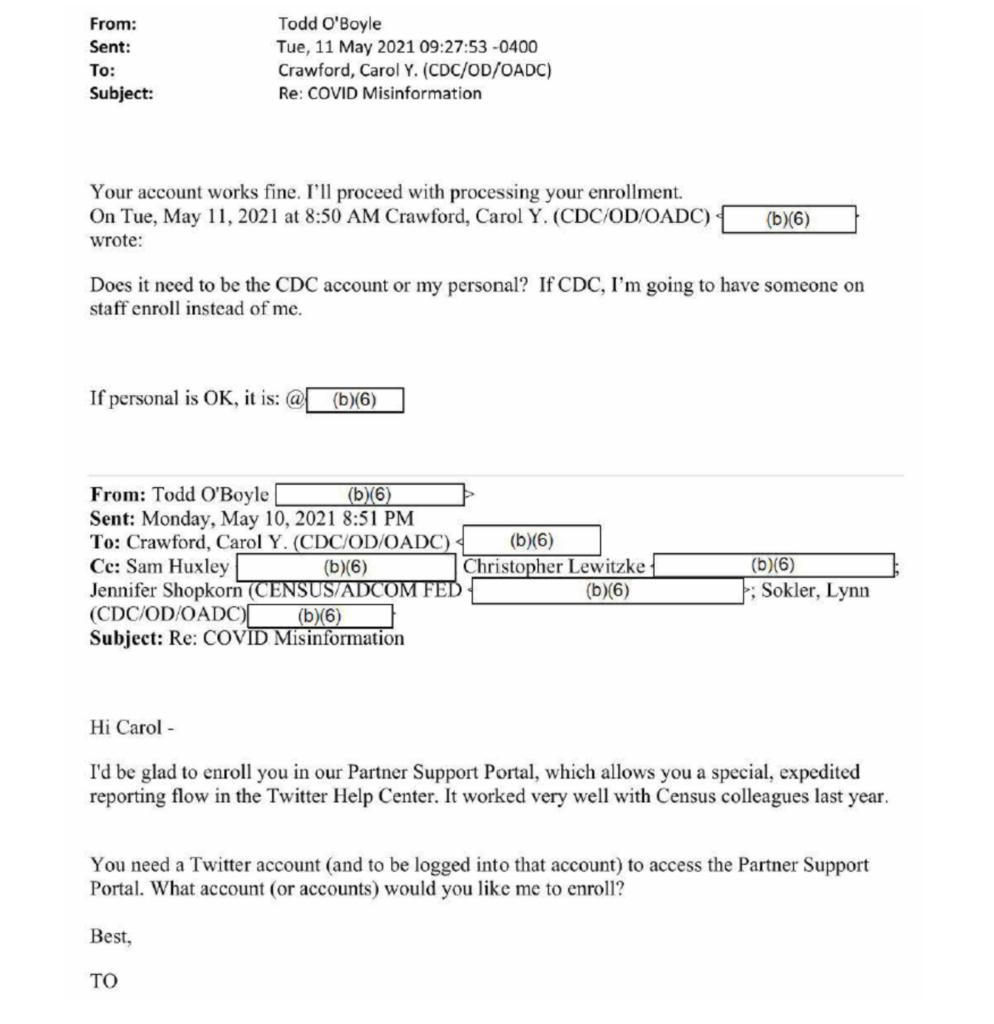 AFL affirmed that the findings disclosed how the "U.S. government was actively working to 'socially inoculate'–or brainwashing–the public against anything that threatened its narrative" by colluding with "Big Tech corporations to monitor and manipulate users for the purposes of censoring unapproved information and pushing government propaganda."
Additionally, AFL found that the CDC collaborated with "UNICEF, WHO and IFCN member and leading civil society organization Mafindo" to reduce the scope of "disinformation." The report notes that Mafindo is Facebook's third-party fact-checking partner funded by Google.
The report is the fourth that AFL has released in its litigation against the CDC.
AFL's latest discovery comes as Twitter is already under fire for censoring the bombshell Hunter Biden laptop story ahead of the 2020 presidential election.
Twitter head Elon Musk, through independent journalist Matt Taibbi, recently released internal files showing how the company's speech tools were actively used to censor content on the platform, per RSBN.
Taibbi's reporting, known as the Twitter Files, noted that the tools were opened to be used by President Donald Trump and Joe Biden. However, the system "wasn't balanced" as "Twitter was and is overwhelmingly staffed by people of one political orientation, there were more channels, more ways to complain, open to the left (well, Democrats) than the right."
The release of the Twitter files focused on the company's censorship of the New York Post's report on Hunter Biden's laptop.