Photo: Alamy
In an attempt at trolling President Trump's campaign, Biden's team joined Truth Social, thinking it would be "funny" – only for it to fail spectacularly. 
Truth Social, a social media site that was launched by President Trump in 2022, has gotten a new member, and that is none other than Joe Biden, paired with Vice President Kamala Harris, on his campaign account. 
AP News shared Biden's reasoning for joining the overwhelmingly conservative social media site, saying, "We just joined Truth Social, mostly because we thought it would be very funny."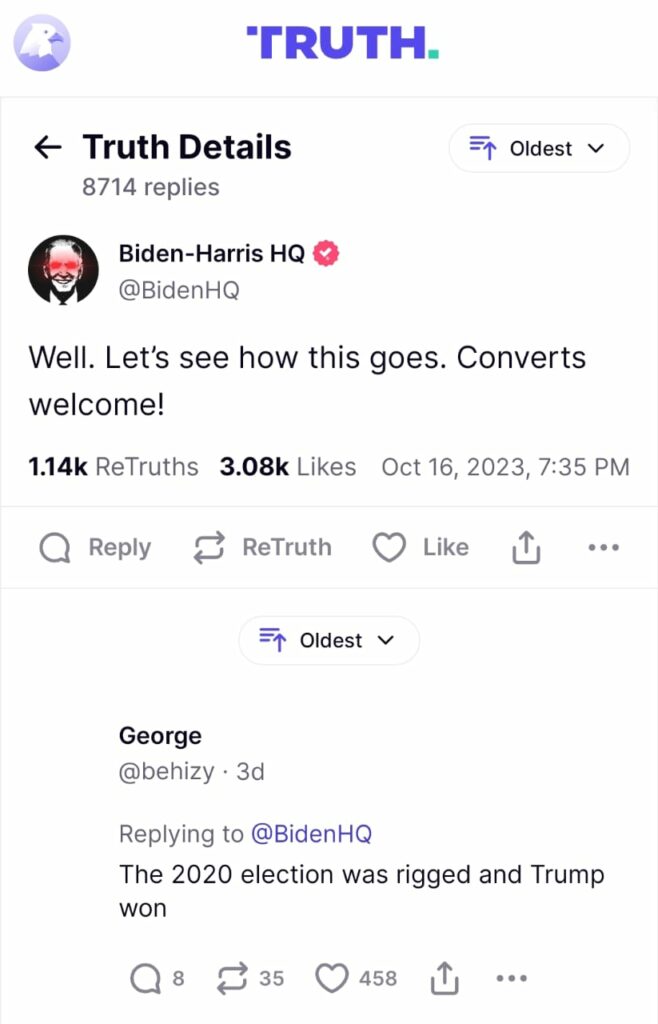 The response so far to Biden's joining has been less than funny for his campaign and has backfired. According to Fox News, Biden had hoped this move would result in "meeting voters where they are." However, this isn't the case.
While Biden's Truth Social account may have more followers than President Trump's, according to Axios, this may not be for the reasons the Biden campaign might think. The Biden-Harris campaign's first post on Truth Social reads, "Well. Let's see how this goes. Converts welcome!"
Biden's post saw over 8,000 replies, with many Truth Social users calling out the Biden administration.
One angry Truth Social user wrote, "Welcome! Maybe being here will help you wake up to the fact that your Administration is clueless, your leader is apparently brain dead, your polls are low for a reason, and there are a whole bunch of citizens looking to hold you accountable." The reply closes with the user highlighting Biden's failed plan. "Best of luck to you. Not sure this is going to play out the way you think. My vote certainly isn't up for grabs." 
This move from Biden is a ploy to get more votes as President Trump continues to tower over him in the polls, according to a poll shared by RSBN.