Photo: Adobe Stock
A grim report from the Bureau of Economic Analysis (BEA) confirmed on Thursday that real gross domestic product, or GDP, declined in the second quarter of 2022 by 0.6 percent, confirming fears that the U.S. had reached a reported recession.
In July, the U.S. experienced two subsequent quarters of contracted economic growth, entering a technical recession, despite attempts from the Biden administration to downplay the negativity, per RSBN.
To make matters worse, according to a report from CNBC, economic experts do not think that inflation in America has hit its zenith yet, anticipating that "inflation is here to stay," per Mary Callahan Erdoes, the CEO of JPMorgan Asset and Wealth Management.
Per the BEA's report:
"The decrease in real GDP reflected decreases in private inventory investment, residential fixed investment, federal government spending, and state and local government spending, that were partly offset by increases in exports and consumer spending."
Additionally, their report revealed that price indexes had increased:
"The price index for gross domestic purchases increased 8.5 percent in the second quarter (table 4), an upward revision of 0.1 percentage point from the previous estimate.
The personal consumption expenditures (PCE) price index increased 7.3 percent, an upward revision of 0.2 percentage point. Excluding food and energy, the PCE price index increased 4.7 percent, an upward revision of 0.3 percentage point."
Just the News further revealed that a panel of economists from the National Bureau of Economic Research will decide whether the country is officially in a recession.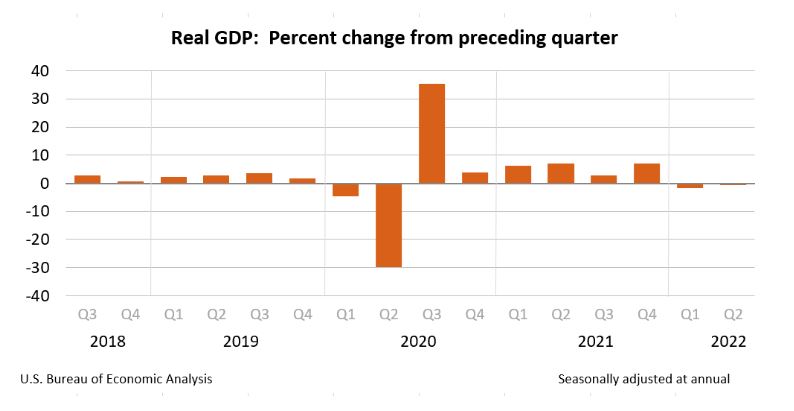 Sen. Marsha Blackburn, R-Tenn., decried the obfuscation of the debate, declaring on Twitter, "It's official – Joe Biden's economic policies and reckless spending have driven our economy into a recession. GDP shrank for the second quarter in a row."
Previously, Brian Deese, a White House economic advisor, caught flack for attempting to deflect from the dismal state of the economy by claiming, "Two negative quarters of GDP growth is not the technical definition of a recession."